Over the last decade or so the expert team of custom metal work engineers at SMW has been lucky enough to collaborate with the folks at the popular Giordano's pizza restaurant throughout the Midwest. We have created custom installations for Giordano's location at Navy Pier in downtown Chicago, the busy shopping hub of Schaumburg Illinois, a popular standalone location in Elk Grove Village Illinois, Indianapolis Indiana, Columbus Ohio, and more. By the time the team at Giordano's had reached out to us for help on their newest location in Kenosha Wisconsin we had created custom solutions for nine of their locations and we were of course more than happy to make it an even ten.
The overall look and feel of every Giordano's restaurant needs to conform to a very carefully curated look and feel. Though each location incorporates a bit of flair from the city it's located in there is a general brand that needs to represent that ubiquitous old school family friendly pizza shop environment that – in combination with a killer pizza recipe – made the very first location so popular. With industrial exposed pipe elements and open kitchen concepts that allow guests to see exactly how their pies are made, every Giordano's location is intended to provide the best possible experience for their customers.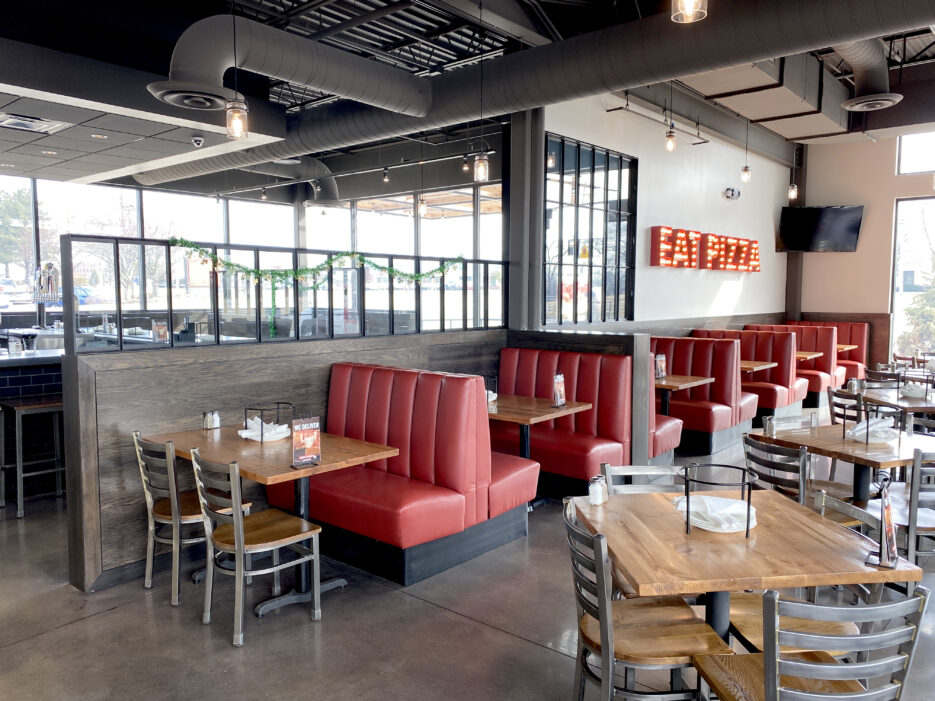 The team at SMW was asked to create a number of different elements throughout the restaurant, including the industrial footrests by the counter. These would need to match the brand of the build, be attractive and noteworthy, but also sturdy enough to withstand many years of enthusiastic use by guests eagerly waiting on their pizzas and drinks. To make this happen we went with a classically industrial exposed pipe design and anchored each element firmly to the counter.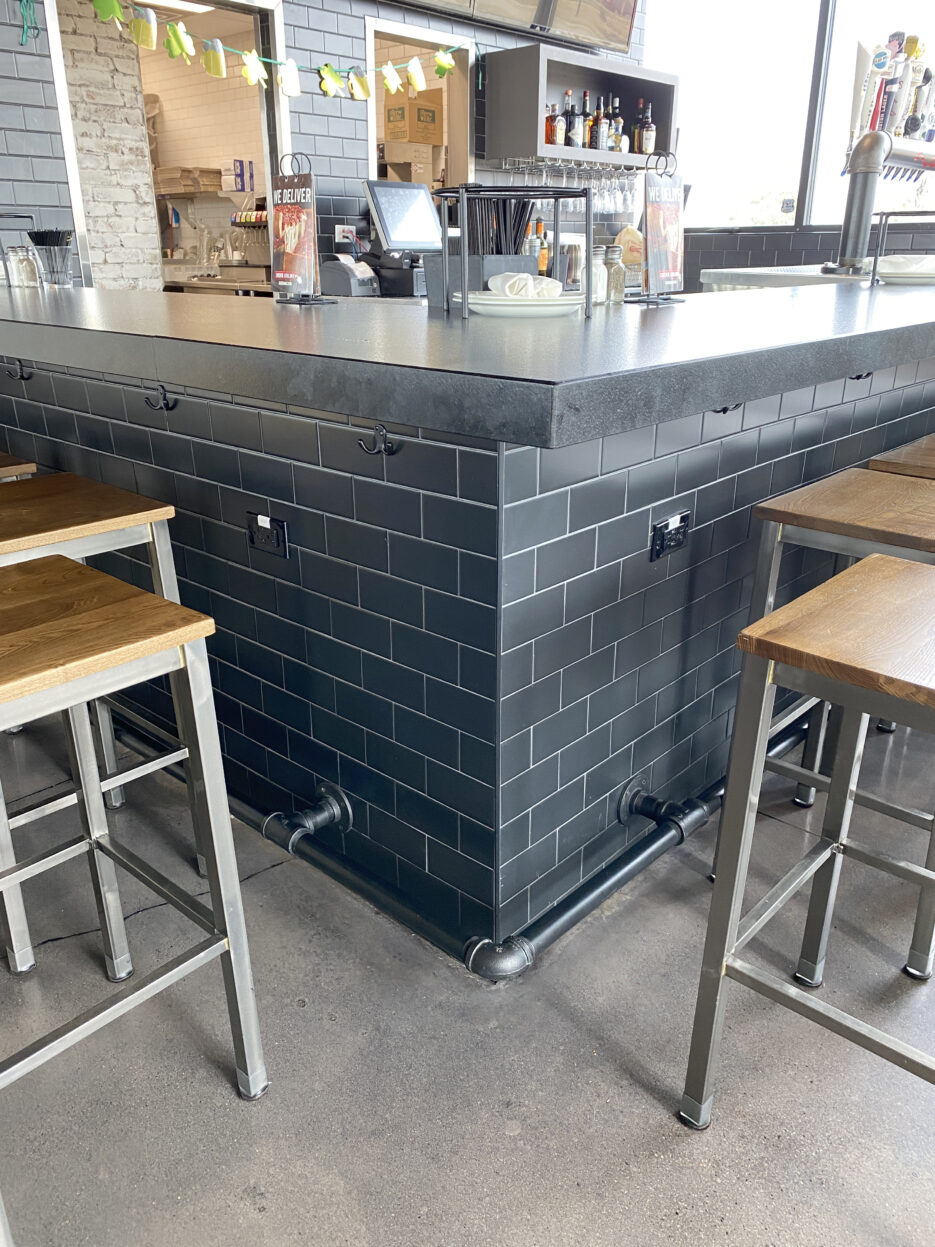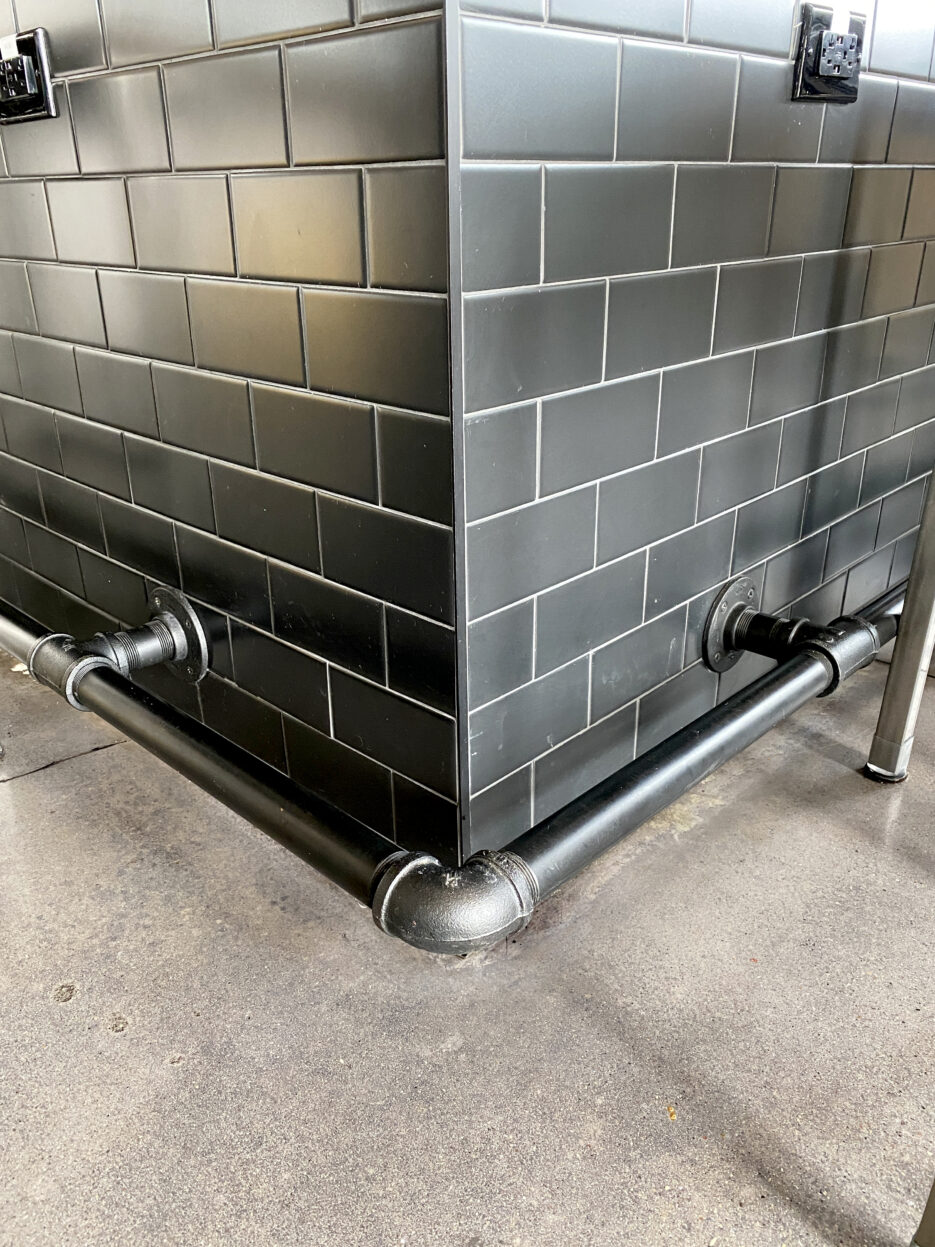 A variety of custom wood and glass room separator installations were also designed by our team to provide separation that is much needed by all restaurants post the times of Covid, but also to allow light and visibility throughout the entire restaurant. The challenge was to create the illusion of open space while maintaining the safety and health consciousness of separation, and we took each section of the restaurant as its own separate challenge to solve.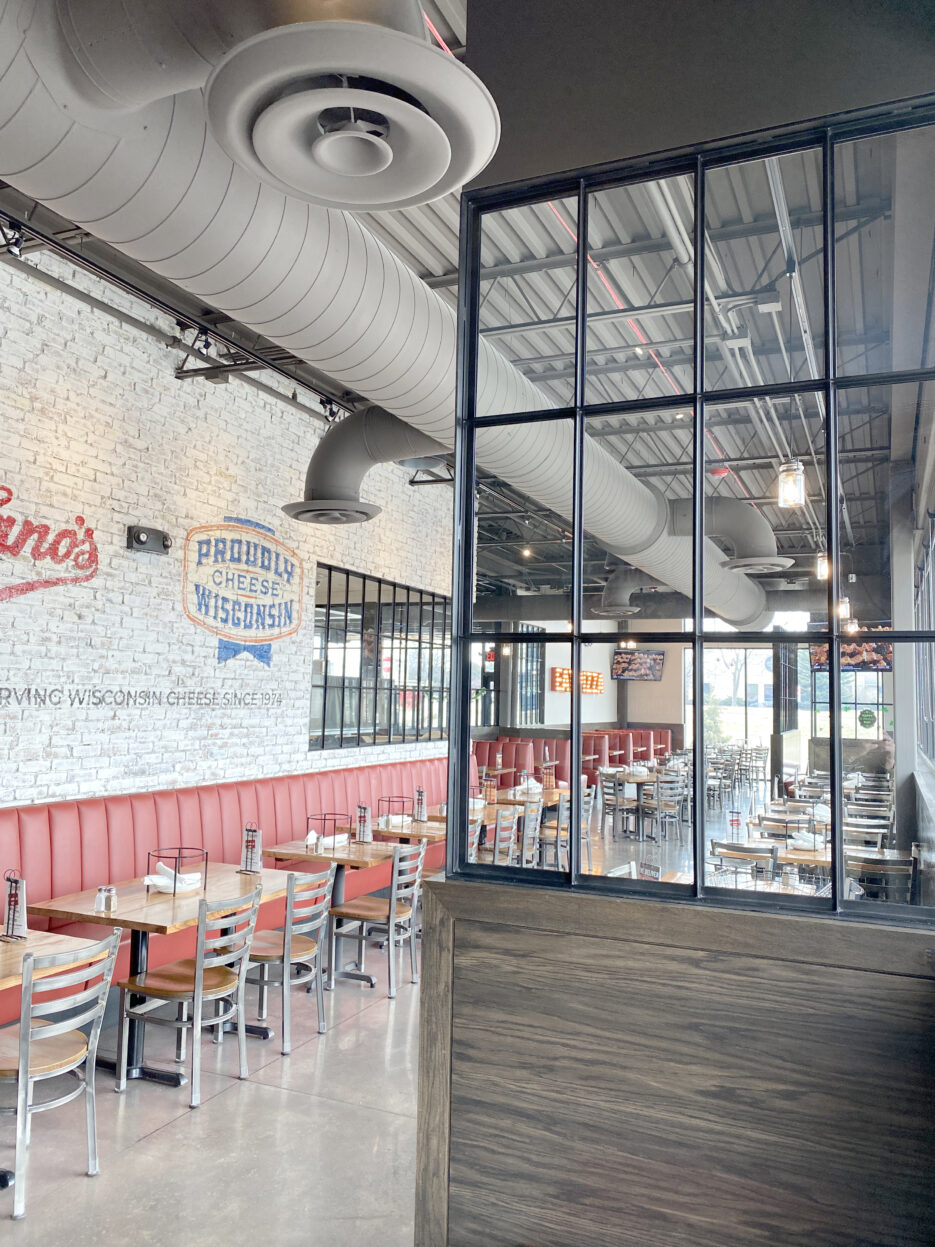 In particular, the client wanted to make sure that the kitchen would be separate but fully visible by the customers as the making of the pizzas is almost, almost as fun as eating them. We created a fully enclosed wood and glass partition around the kitchen to accomplish this and we have to say that we spent more than a few minutes with our own faces plastered against that glass once the restaurant opened.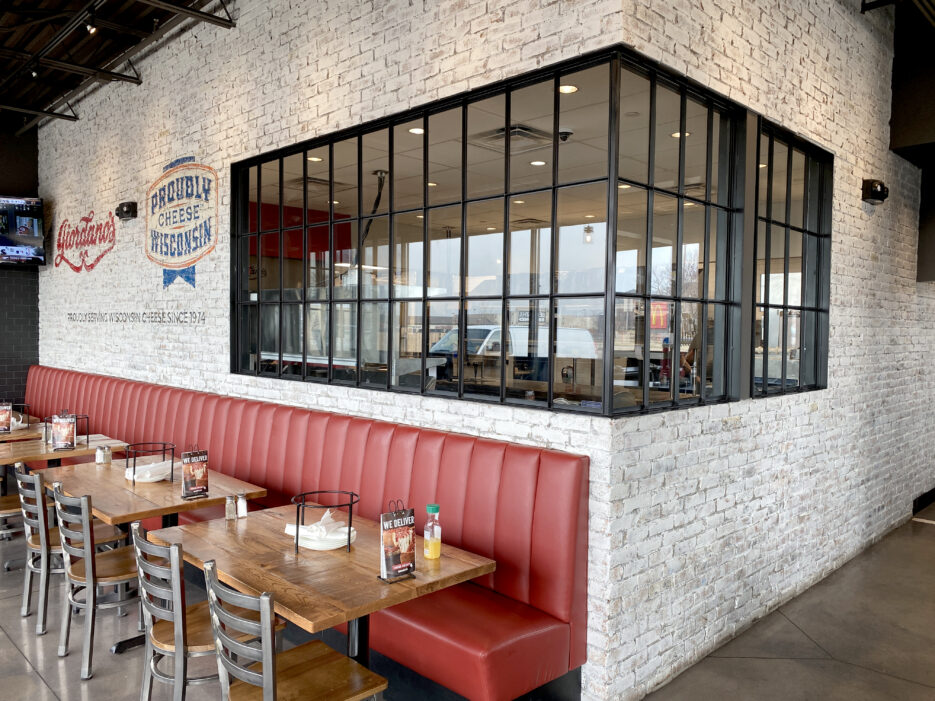 Considering the dark metals and woods used throughout the restaurant it was our challenge to use the blend of glass and metal to corner off restaurant spaces without blocking off light and visibility. To create intimate spaces without ending up with dark dusty corners, which we believe we executed beautifully.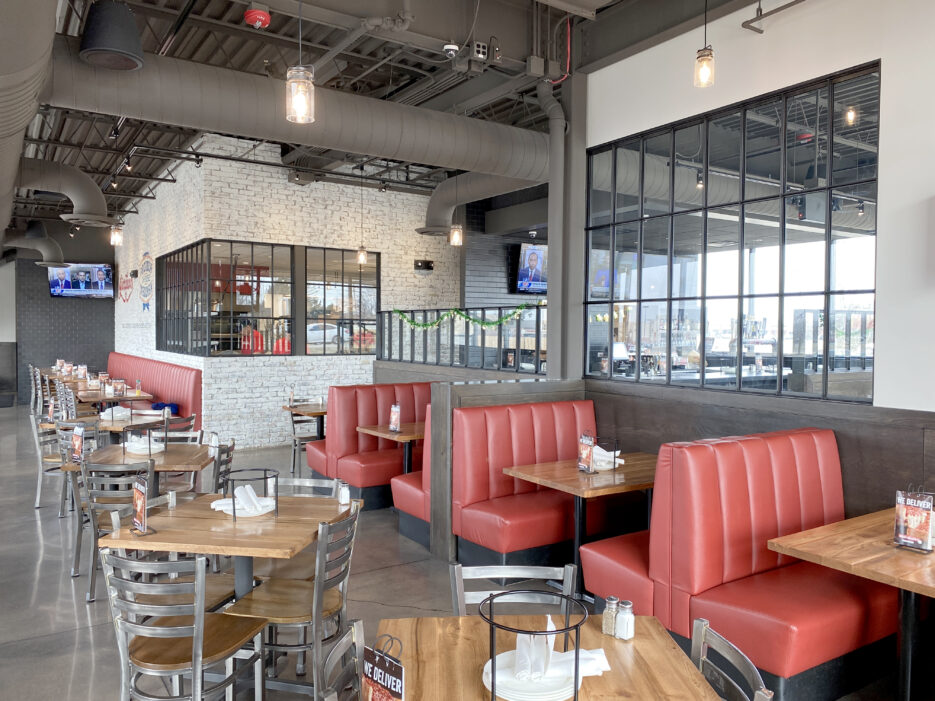 When the weather is cooperating, there is nothing better than taking a pizza and a couple of cold beers out to the patio, so we absolutely had to create a custom enclosure for Giordano's customers to do just that. When designing patio enclosure railings it is important to not just surround the area to allow diners the pleasure of dining outside, but to also extend the restaurant's ambiance. The timelessness of wrought iron fencing enhances the curb appeal of a patio while seamlessly blending the restaurant to its surroundings.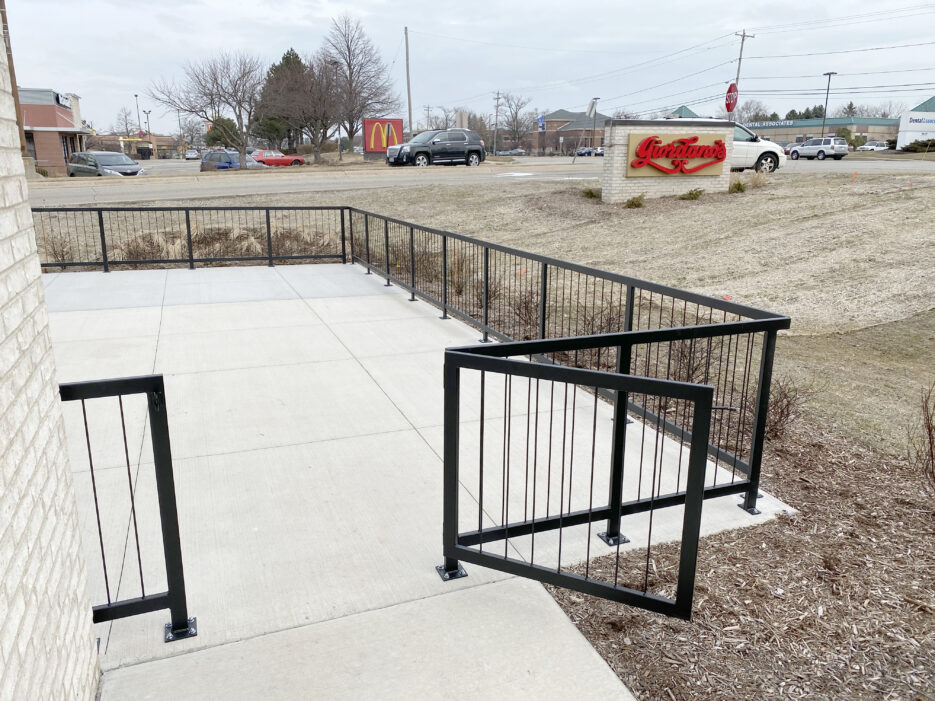 Choosing wrought iron railings for the patio also greatly reduces the expense of maintenance since all installations created by SMW are made to withstand the drastic summer temps of Wisconsin summers as well as the harsh lows of the Midwest winters. Though the patio is likely to be closed for the colder months, we still wanted to make everything as durable as possible to ensure elevated use for many years to come.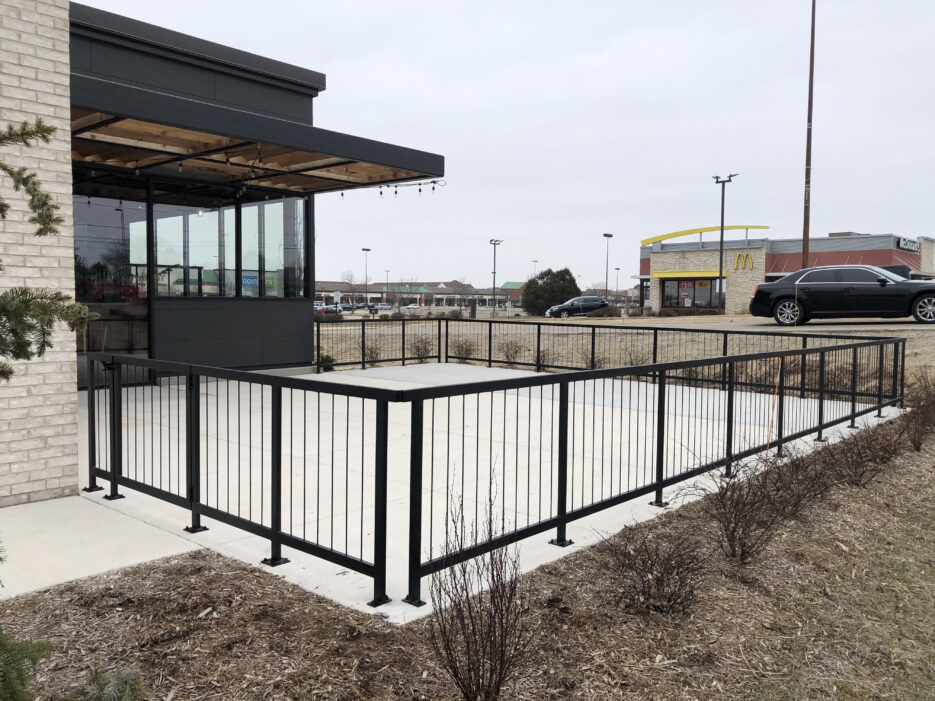 We are grateful that the design team at Giordano's has trusted us with collaborating on another what is bound to be extremely popular dining destination and we hope to help with future franchise expansion projects for the brand. It was a fun project to work on as always and it gives our craftsmen a bit of a thrill to pass by these destinations and know that we contributed to making each customer's visit a special one.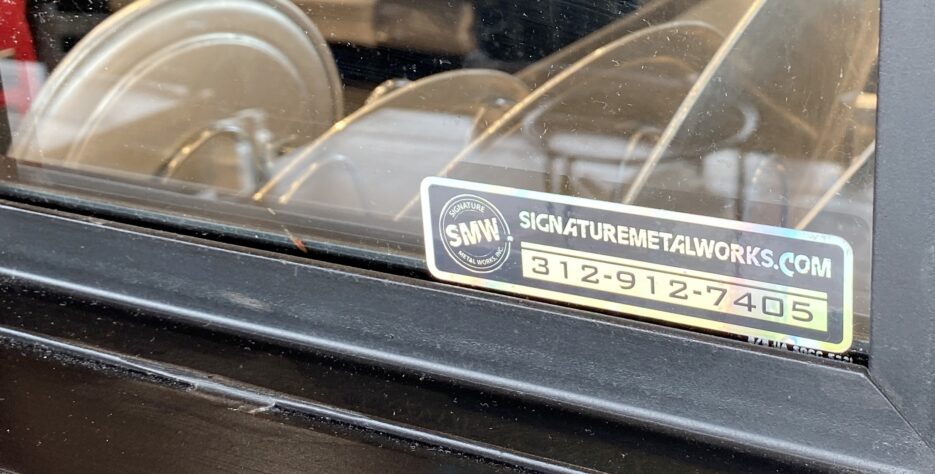 Do you have a commercial project that is in need of custom wrought iron craftsmanship? Do you have an idea for a footrest, restaurant partition, patio or much more? The team at Signature Metal Works has over four decades of experience in working with such big brands as Colectivo, Giordano's and more on just these types of projects and we have the skills and bandwidth to make your retail location stand out with our custom wrought iron installation solutions. Give our team a call today and see how our designs can give you an edge over the competition.