Whether you're looking to update your home staircase or install a safety railing at your commercial property, wrought iron is the perfect medium for any design you may have in mind. In its natural form, iron is a raw element that is harvested from the earth and wrought iron is an iron alloy with a very low carbon content. It is tough, malleable, long lasting and easily welded by comparison to pure iron. Before the invention of steel, wrought iron was the most common form of malleable iron, which earned its name from its ability to be hammered, rolled or worked under heat to create different pieces. Known for it's flexibility of design, durability and ease of maintenance, wrought iron is the perfect addition to create a sense of security as well as add value to your home.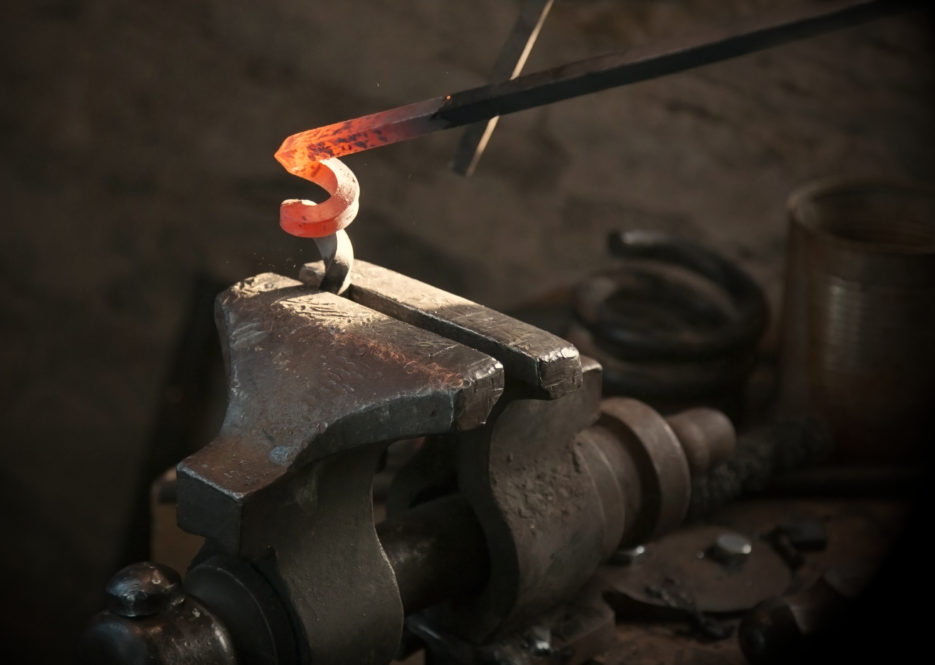 Safety and Security
Safety is the main concern of any home or business owner when thinking about updating or adding a number of different additions to a building. A well placed wrought iron handrail helps your guests keep their balance when using the stairs. A sturdy railing will help keep your kids from tumbling off the porch. Secure wrought iron window guards placed on the ground floor of your business will prevent break-ins and provide you with peace of mind. A sturdy mezzanine will increase the working space and provide a safe way to traverse your industrial space. Wrought iron is the perfect material for all of these projects and more. Wood can rot and burn, sometimes creating more of a hazard to a situation then security and aluminum is simply not durable enough to prevent tampering. Much more reliable and attractive than wood or aluminium, as well as much cheaper than stainless steel, a wrought iron installation will keep your family, employees, and clients safe for many years to come.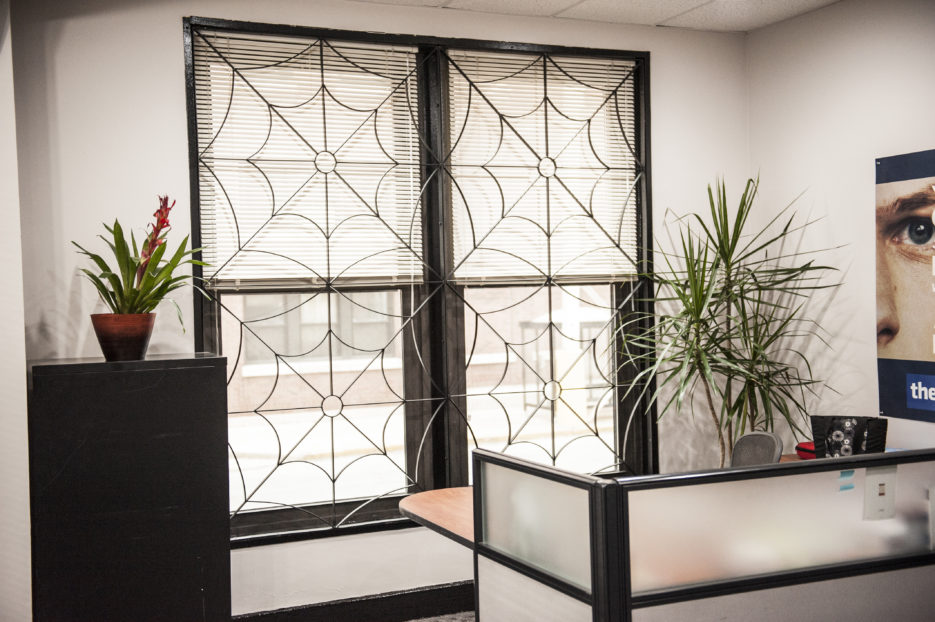 Durability
Wrought iron is much more durable and long lasting than any other material commonly used for railings or window guards, such as wood or aluminium. Wood can rot and warp fairly quickly and is susceptible to various changes in the weather, and aluminium isn't nearly as strong. Wrought iron combines iron with carbon for incredible strength, while also being malleable enough to be transformed into beautiful shapes and curves. A wrought iron railing or staircase is not just durable enough to withstand every day wear-and-tear, but is also strong enough to withstand any unexpected impact. With a bit of maintenance, a wrought iron installation will last and add beauty to your home for decades or more.
Ease of Maintenance
Although the initial cost of wrought iron installations might be a bit higher than that of other materials, such as wood or aluminum, the low maintenance cost makes this the preferred choice for many home and business owners. An indoor installation requires almost no maintenance whatsoever, aside from the occasional dusting, and with just a bit of work an outdoor product can also stay beautiful for many years. Properly treated wrought iron has incredible corrosion resistance and doesn't require much to keep its strength and beauty through decades of use. Sand blasting a piece before applying a finish ensures a beautiful finish that will withstand many things that life will throw at it. If you do notice some rust developing on your railing or staircase, all you need is a wire brush and a fresh coat of paint to quickly and easily solve the problem. A painted installation might require re-painting every 5 to 10 years, or even longer depending on the exposure to the elements. A galvanized or powder coated piece will stay beautiful and strong for decades longer then that without any need of maintenance at all. Even if wrought iron is allowed to rust, it would take years for the metal's structural integrity to become compromised, allowing plenty of time for restoration or replacement, and even if one section of a railing does succumb to rust, the rest of the installation will still be functional. Any minor damage to a part of the railing or commercial awning can be easily fixed without the need to replace the entire installation, which saves the owner money over the lifespan of the piece. Wooden structures often fall victim to rot or woodworm, glass isn't as sturdy and requires a lot of maintenance to retain its look, but wrought iron is durable and low maintenance, and will stay looking beautiful for decades to come.
Value
There's no denying that a beautifully designed wrought iron staircase or balcony railing adds timeless beauty, and therefore value to any home. Upgrading a clunky wooden railing leading up to your front door with a beautifully designed wrought iron one adds not only curb appeal to your property but translates to monetary increase in the value of your home. Converting a plain window on a boring façade of your home to a gorgeous Juliette balcony does the same. Converting an underutilized rooftop to a beautiful patio space for your business with the addition of a gate and ADA compliant wrought iron railings allows you to expand your seating space, creates a unique outdoor venue for events, and gives you opportunities for endless ways to monetize the additional space.
When considering your options you might encounter stainless steel and aluminum, but wrought iron remains the better value. While stainless steel is a little bit stronger than wrought iron due to the addition of carbon in the alloy, it is quite a bit more expensive and the cost does not often justify the difference. Also, while wrought iron might be a bit less sturdy than stainless steel, it is more flexible and therefore naturally resistant to shock and vibration, which more than makes up for the softness of the metal. In addition, when wrought iron has a small break, it occurs gradually, so you have plenty of warning that the piece needs to be repaired or replaced. If steel is damaged, which it is prone to do when dealt a powerful blow, such as in an area prone to natural disasters, it breaks suddenly and without any advance warning. Aluminium, on the other hand is quite a bit cheaper than wrought iron, but it is very light and very weak in comparison. A sturdy push against an aluminium installation could dent it or cause more serious damage, making the old adage ring true in that you get what you pay for. With wrought iron you get the best combination of low price and durability, no need to sacrifice one for the sake of the other. With a bit of maintenance a wrought iron installation will retain it's beauty and function for many years.
No other material can give your property the same level of elegance as is offered by wrought iron. The durability, price and low maintenance cost means that an upfront investment can yield many years of value to your home.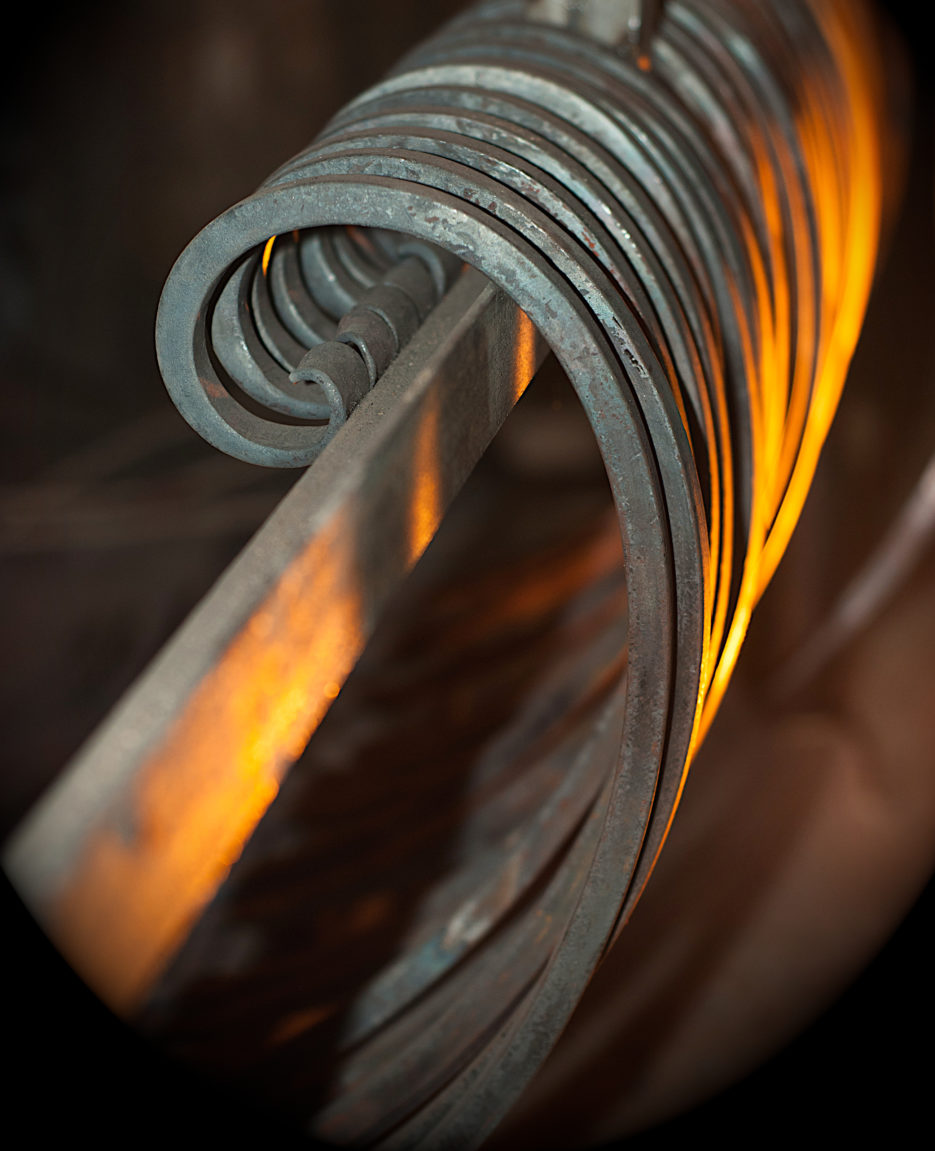 Flexibility of Design
One of the main reasons that wrought iron has been the preferred medium of designers for hundreds of years is the ability to shape and mold the metal into any design imaginable. Palaces have featured elaborate wrought iron gates and window guards, adding security to the building while allowing the splendor of the structure to be seen and complimented by the wrought iron elements. Whether you're looking for the sleek straight lines of minimalist or modern design, or you love the swoops and curves of the more ornate traditional or French country styles, wrought iron can be bent and twisted into the perfect shape to make your vision a reality. You can choose from hundreds of years' worth of design as inspiration or create something entirely unique of your own and know that it's all possible with wrought iron. Take a look through our gallery to see all the different designs and styles of wrought iron installations we've done in the past and let us know if you see something you'd like to implement at your home or business. A functional piece doesn't have to be boring. Our installations are like functional metal art that provides security to your family.
Wrought iron can be used anywhere you'd like to add beauty and safety without sacrificing either. If you need some ideas for how to add security and elegance to your home or business, here are just a few to get you started:
Staircases – Install a custom wrought iron railing installation along your home staircase or the steps leading to your front door for safety and elegance, or create an entire staircase from wrought iron elements for the ultimate durability through decades of use. You can also add a beautiful hand rail to provide security and an attractive accent piece to your space.
Balconies – Whether you're converting a window to a Juliette balcony or upgrading the railing design of an existing balcony, wrought iron adds the perfect aesthetic to your building's façade. You're going to spend summers out on the balcony grilling and enjoying the sunshine, may as well do it in style.
Garden or Lawn – Place a custom wrought iron railing around your home garden or add a unique lawn edging installation to improve the look of your business for added protection and elegance. Let the railing complement the plants and flowers of your garden for that gorgeously curated look.
Windows – Whether it's a simple wrought iron window guard or an elaborate artistic installation, wrought iron adds beauty and security to your home or office. The peace of mind that comes with either design choice is priceless.
Patio – A beautiful custom railing to frame your back porch and add safety to the space doesn't have to be boring. You can design an elegant wrought iron structure to accent the home and increase the home value. A well designed railing and gate can also create a much coveted outdoor seating for al fresco dining for your business.
Much, much more! – In addition to the architectural structures mentioned above, wrought iron is also ideal for creating a variety of custom furniture or artistic installations. The sky is truly the limit on what we can do.
The strength and flexibility of the wrought iron, combined with the ease of maintenance makes it the perfect medium for your home or business design solution, so if you're looking to add beauty and value to your space, give us a call today! The team of professionals at Signature Metal Works has been in the metalwork business for four generations and has several decades of experience under our belt. If you're looking for wrought iron railings, window guards, or anything else you can imagine designed, fabricated and installed in your home or business, contact us today for an estimate. Let us make your vision a reality!