Much like with fashion, design trends for railings, both for homes and businesses, change from year to year. Some styles are timeless classics and remain always in vogue, but there are always a few that become all the rage in adding beauty, function and value to a space. Historically speaking, when designing architectural elements like railings for homes and places of business, people would attempt to show off their affluence, or at least make people think that they were better off than they were. This meant that sweeping elaborate confections of iron were all the rage. Highly detailed scrollwork, recreations of animals or entire nativity scenes, and lots of gilding was very prevalent in railing designs. You can still see many examples of this projected opulence in the wrought iron installations around Chicago's historic buildings in the downtown area. Over time, tastes have shifted and the heavy creations of the past gave way to sleeker and lighter installations that were more understated, though no less impressive. Design became the goal in itself as people wanted to project their taste over flaunting the contents of their bank accounts. The organic lines and organized natural elements popularized by Frank Lloyd Wright left many marks around the city, and gave permission for designers to pare down and simplify designs, making function beautiful without any gilding required. Industrial designs have taken over for a time as well and it became popular to show off the inner workings of installations as part of the design. Supports, bolts and rails were shown off instead of being hidden as people felt nostalgia for the days of industrial progress. Guessing what will be in vogue next is a difficult thing, but by paying close attention to what our customers ask for, keeping a close eye on the market, and pairing all that with our own innovations, we can predict what railing design will stay relevant longest and make our customers happy for years to come.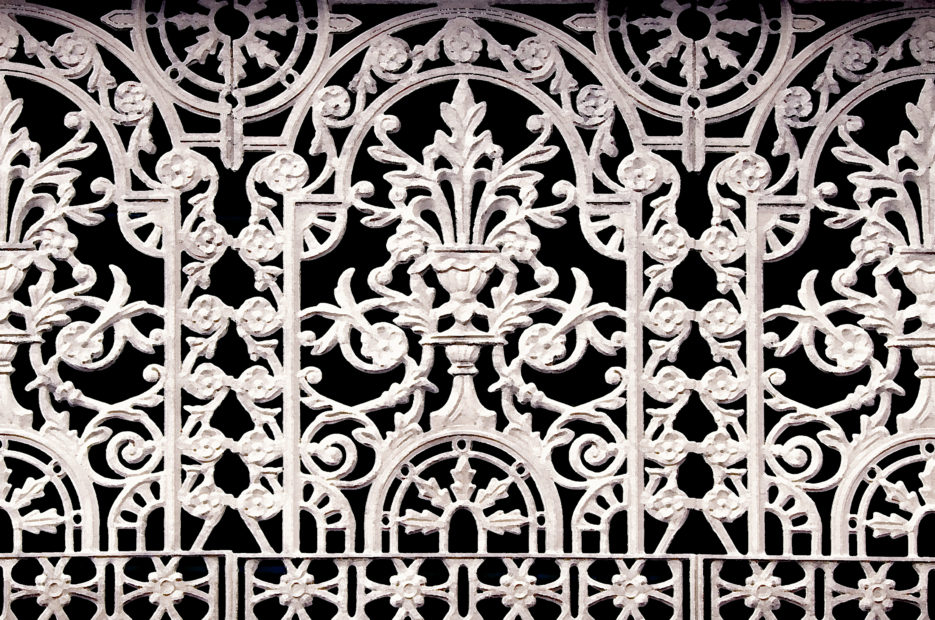 We've noticed several different trends come and go over our 20 years in the business, and this year there are a few that have become the most requested styles our customers have been interested in implementing. If you are in the process of building or remodeling your home or business and would like to implement something modern and up to date into your space, here are a few styles for you to consider.
Horizontal Farmhouse Railings
Raw or repurposed wood was all the rage a few years ago when everyone was attempting to incorporate rough and aged wooden elements to their home. While this farmhouse style hasn't gone away entirely, it has grown with the times and evolved into a more modern aesthetic. Leaving the rustic country elements behind, our customers have been requesting the sleek black lines of a custom horizontal wrought iron railing that allows plenty of light through, while allowing the eye to flow either down the staircase or along with the view of their gardens through the deck railing. The goal with this design is to provide sleek lines to a space while grounding the often white or light finishes found elsewhere in the open space. We've done a number of different variations on this design in the last few months and would be happy to discuss incorporating this look into your remodel.
Cable Railings
Safety shouldn't come at the cost of your view, and custom cable railings take the previously mentioned trend one step further. Rather than blocking your surroundings like traditional railing designs, cable railing's minimal design places focus on what's beyond it and the horizontal design flows with the environment around it instead of breaking up the view as a vertical design might. The cable itself also offers a chic, modern aesthetic that classes up any property, whether used indoors or outdoors, residential or commercial.
Cable also requires hardly any maintenance. Glass railings and even some traditional designs require a work to keep them looking good. Glass easily gets dirty, smudged, chipped, and fogged. Traditional railings tend to gather dust and require regular cleaning to stay looking beautiful. Cable on the other hand is virtually maintenance-free. There's nowhere for dust or fingerprints to gather, so almost no cleaning is required to keep everything looking gorgeous.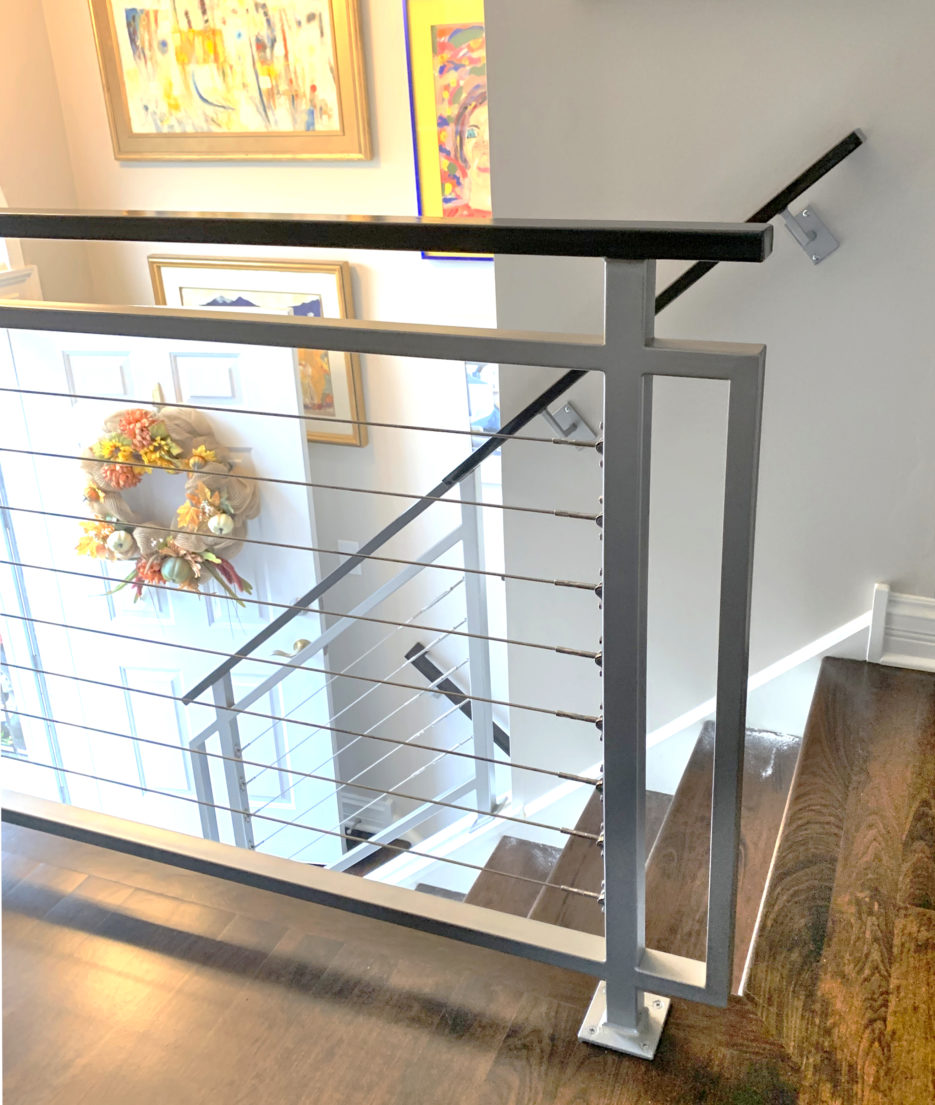 The horizontal element of this design allows the eye to flow along the railing with ease, providing a calming feeling to the installation that compliments the surroundings in a subtle and pleasing way. It's a great option if you want a lot of light to enter your space or if you have large windows and a striking view you'd like to frame. These railings are quick to install and provide just the right modern touch for almost any interior. If you like the airy and modern look of this style, give us call today to see how this design might work in your space.
Light Wood Handrails
While this design still favors the horizontal elements of either cable or thin wrought iron railings mentioned above, it pairs this airy design with the warmth of a wooden handrail on top. Often the wood is chosen to match the hardwood flooring or wooden staircase the railings are designed to frame. A custom wooden handrail provides a warm contrast to the metal of the railing that adds a sense of "softness" to the overall design which is pleasing to the eye and touch. Our in-house woodwork specialist would be glad to create something that pairs perfectly with our custom wrought iron railing designs to compliment your home in a modern style that's still warm and airy.
Take a look through our gallery to see examples of these styles that we've done in the past or feel free to reach out to our designers to create something entirely new and custom. A railing doesn't have to serve a purely functional role. Add some artistry to your project and let us create a functional work of art for your home or business. We are a one stop shop and can design, fabricate and install your custom railing for your home or business, so if you have any questions about these or any other styles, give us a call today!