A trend that has been steadily gaining in popularity over the years is the conversion of open floor warehouse spaces into living or office loft spaces. With huge open floor plans and soaring ceilings, these spaces can easily be split up into "rooms" while still leaving the area open and full of light. But the raw, brick walls and design-from-scratch open floor plans do pose some challenges to those looking to convert these spaces into efficient and attractive living and working spaces. The quickly changing Fulton Market area of Chicago is just one area that has seen many such conversions with rather spectacular results and the team at Signature Metal Works has been an integral part of more than one of these transformations.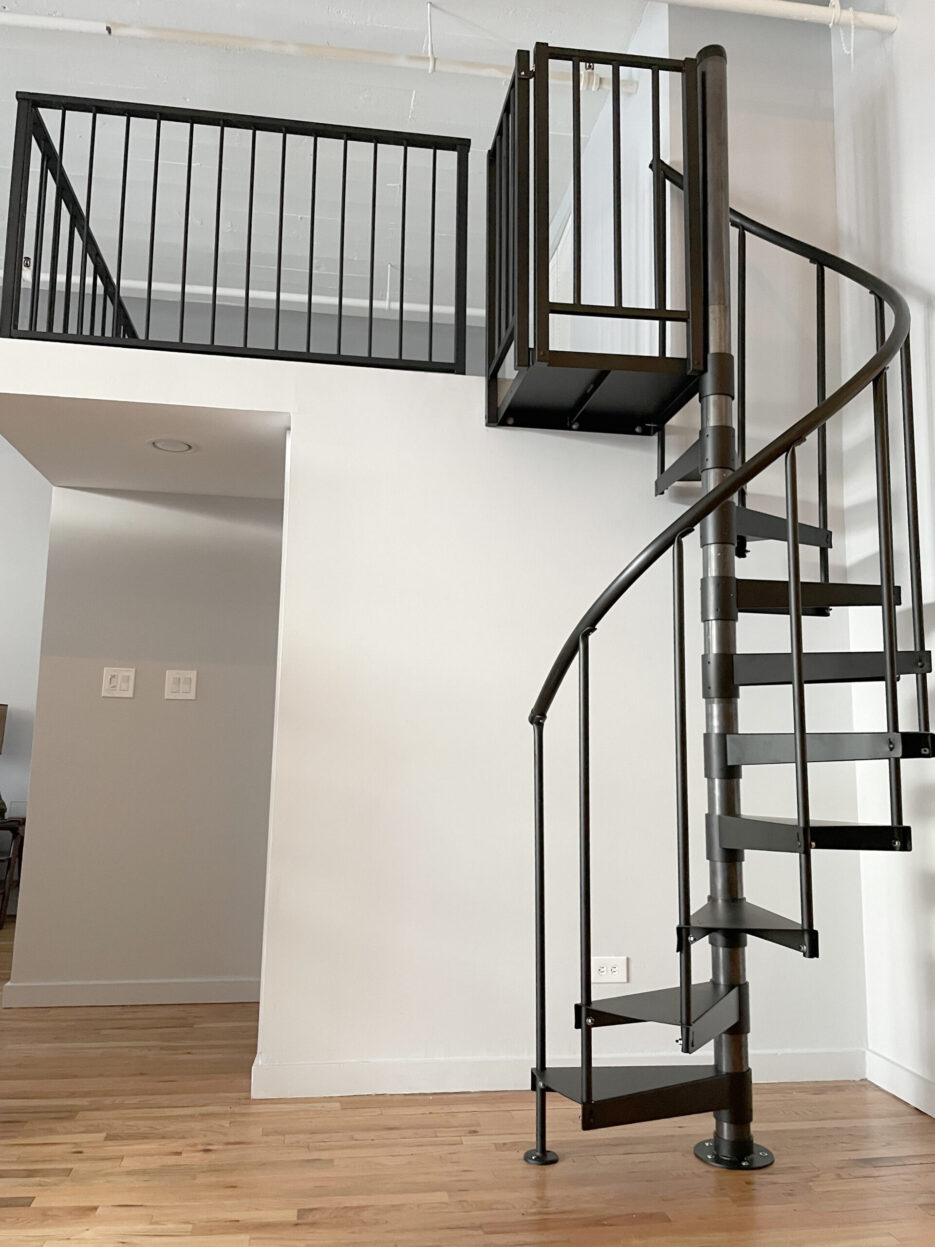 Before getting started, it's important to figure out a floor plan for your space so that you know exactly what will go where before you start building. For example, if your redesign will require plumbing work, it would be less work and ultimately cheaper to plan to have the kitchen area and bathrooms in one section of the space. You also have the choice to partition the space and create rooms, or leave the floor plan open and separate the area with temporary or mobile dividers.
Adding an elevated space to your loft can turn even a relatively small square footage into a luxurious apartment or office and the added area can be either used for extra living space or a separated work area that affords a bit of privacy to the otherwise open layout. Thanks to the high ceilings of a warehouse conversion there is plenty of room to build "up", and a well designed setup can make all the difference. Of course you'll need to make sure that your ceilings are in fact high enough to accommodate the extra elevated space without feeling closed in or cramped, but most warehouse spaces with ceilings of 14-16 feet or more, this is not much of an issue.
Since keeping the footprint of such spaces small is vital, a spiral staircase is the perfect choice to provide access to the newly lofted area. A straight or an L-shaped staircase would take up far too much space that would then be left unusable for anything else, often taking up almost three times as much space as a spiral staircase. A spiral staircase design uses up the bare minimum of the floor space without any waste and rarely dominates the room it's installed in. In addition to being economic on space, spiral staircases are also often economic in price when compared to other options. You can make bold, stylish space saving solutions to your home or office without breaking the bank.
There are lots of creative ways to implement this vital element of a loft conversion. You can play with spindle designs, incorporate contrasting handrail material, or incorporate wood in the stairwell steps. Whether you prefer the industrial look of a solid steel structure or would prefer to soften the look with other colors or materials, this design is endlessly customizable to best fit your interior design vision and requirements.  Truly the sky is the limit, but whatever designs you go with, safety and a well made base structure is vital.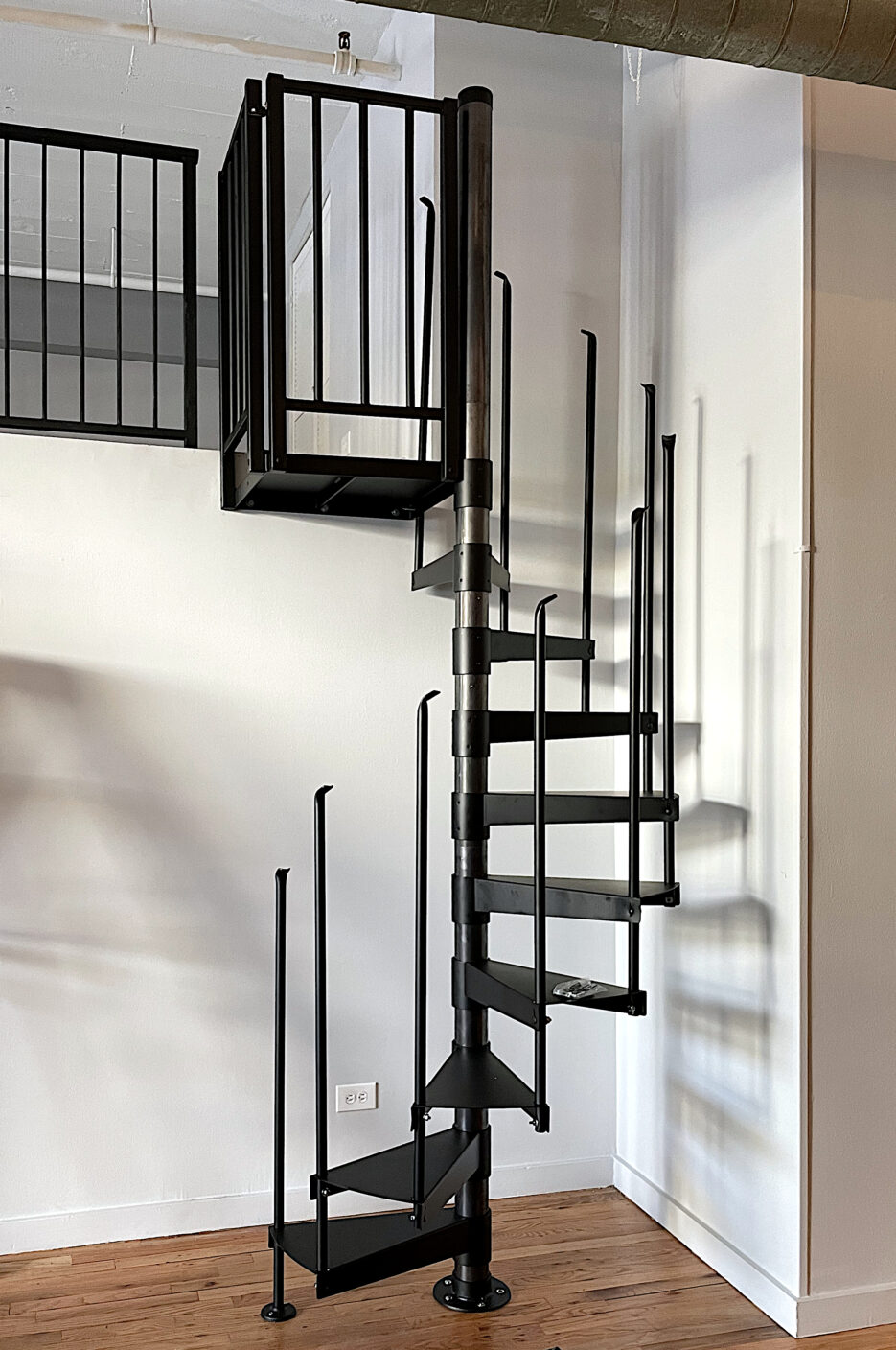 Keeping safety in mind, you'll want to consider what kind of balcony railing you'll want to add to the upstairs landing space. This railing can be made to match the railing used in the stairwell or something different that pairs well with the design. You'll also want to ensure that the entrance to the stairwell is well guarded to avoid accidents and ensure ease of use. This actually also highlights another safety feature of a spiral staircase. A person going down a set of stairs can quite easily miss a step, however with the spiral design if this does happen, the natural curve of the railing will break the fall and save the user from falling the entire length of the staircase.
Lighting consideration is another important decision you'll need to make. Most industrial lofts feature huge windows that provide lots of natural light, which you may not want to block by using solid dividers in the space. Deciding whether to leave the elevated loft area open or close it off from the rest of the living space all depends on your needs and preferences. In this example we didn't want to block the view to or from the landing and wanted to ensure that the loft space got plenty of natural light, so we opted for a classic spindle design that provides security to the space as well as a clear view of the downstairs.
If your converted loft will be used as a living space and your large windows are open to neighboring buildings with a clear view into your space, you may want to consider some curtains or frosted glass as a railing design to restore a sense of privacy, but that wasn't a concern for us here so we were glad to keep things open and airy.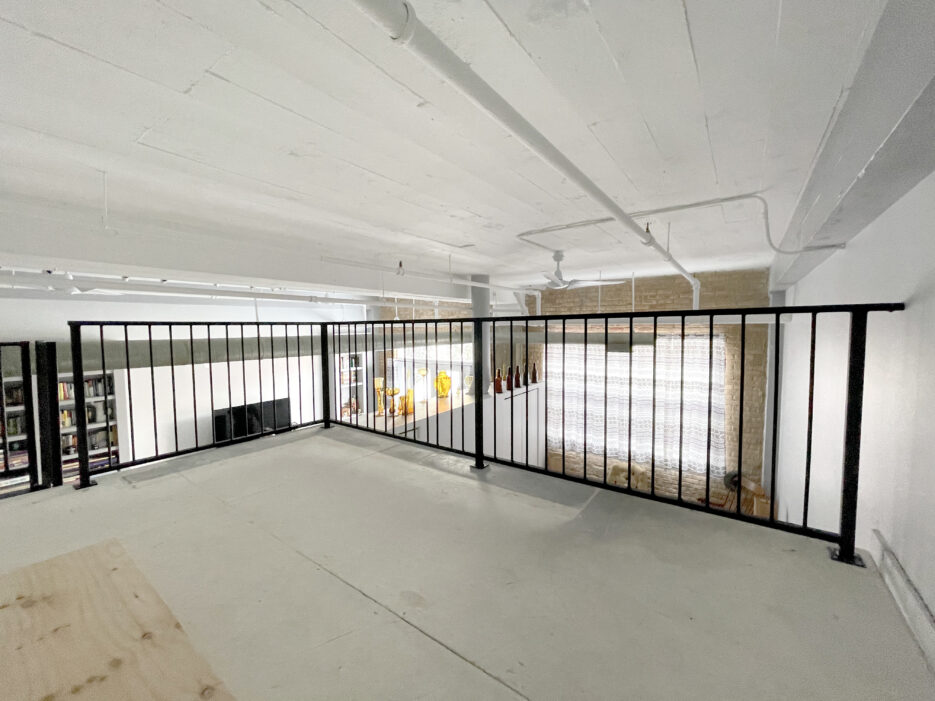 And don't forget about the steps! You can go with the textured wrought iron design to provide tread, incorporate concrete if you like the esthetic and expect high traffic, or go with a softer wooden step option if you're creating the lofted space in your home and aren't as concerned about how many people will be travelling up and down these stairs on a daily basis.
Finally, in addition to adding a smart way to extend living and working space for your warehouse loft, it is undeniable that a well crafted elevated loft space adds value to the home or office. Designers love to have the additional space to decorate and the added space is generally regarded as an attractive selling point.
Throughout this article I've shared an example of an elevated loft conversion with a balcony railing and a spiral staircase that the experts at Signature Metal Works created for a client in the Fulton Market area of Chicago, and it's a fairly typical example of a solution for these types of spaces. If you are looking to increase the workspace for your office or to add an elevated extra room for your loft home, give the team at SMW a call and see how we can make your vision a reality.