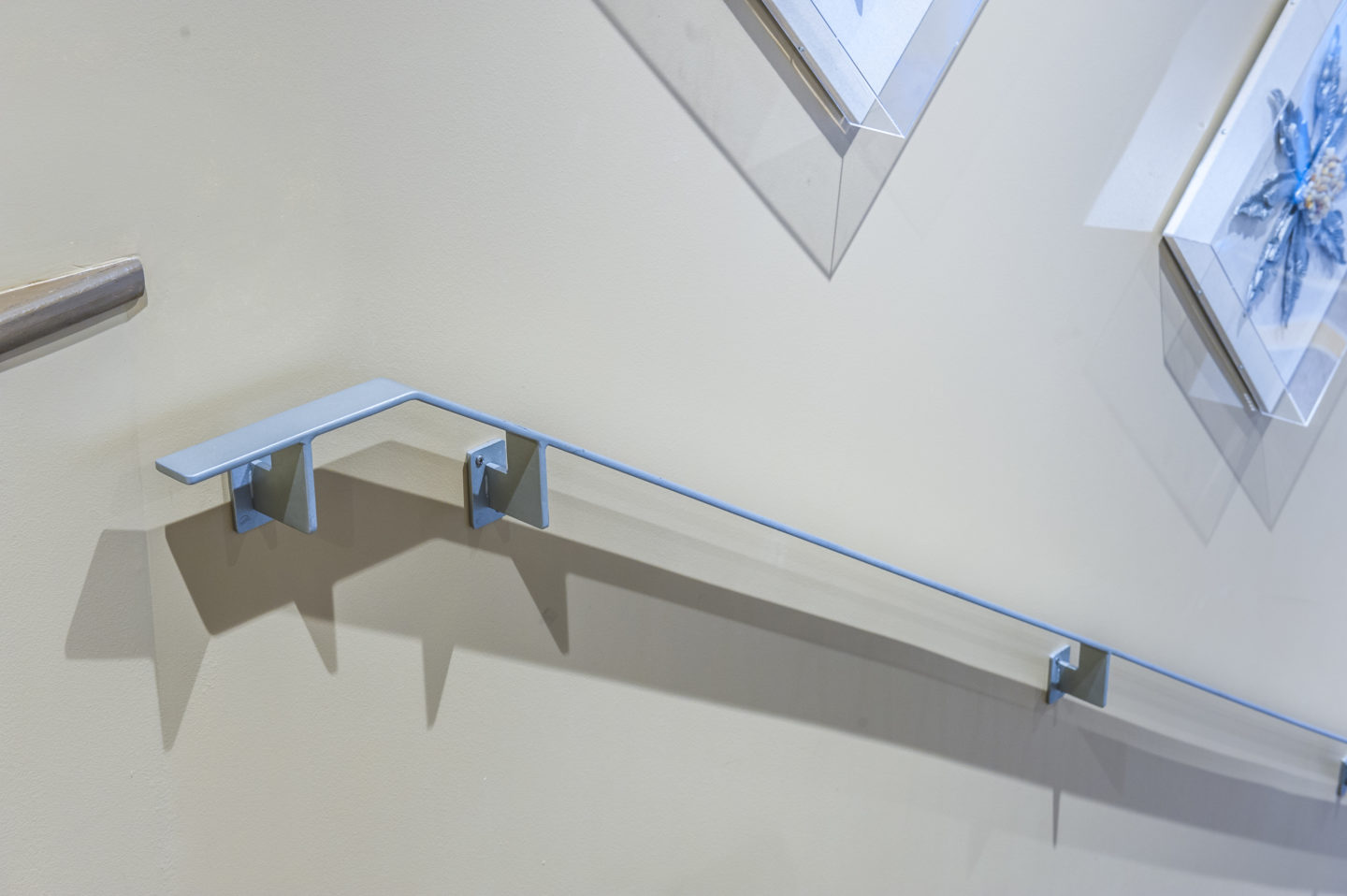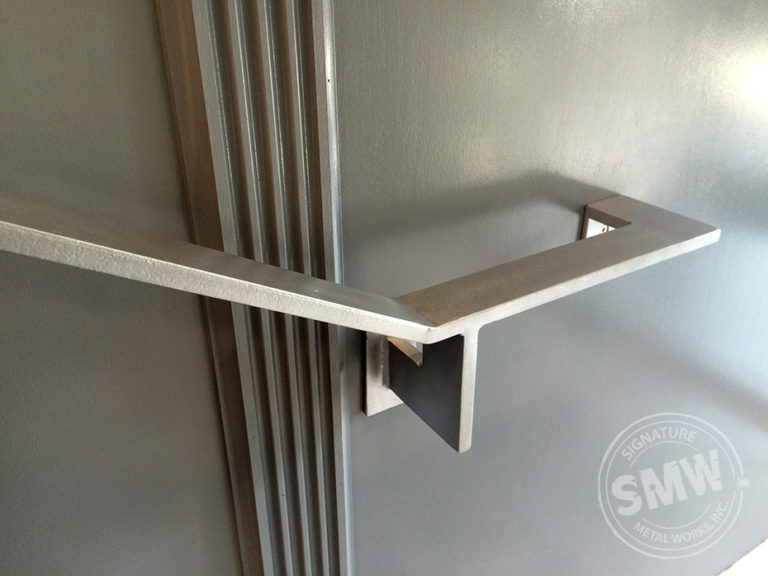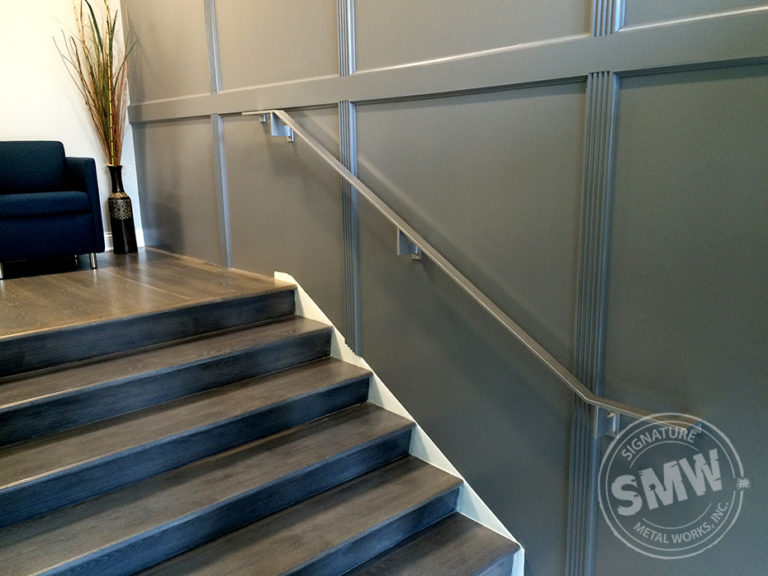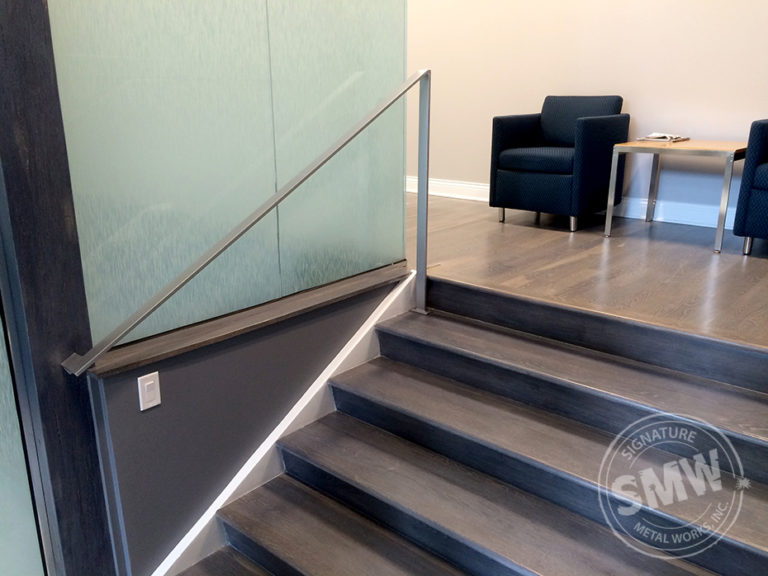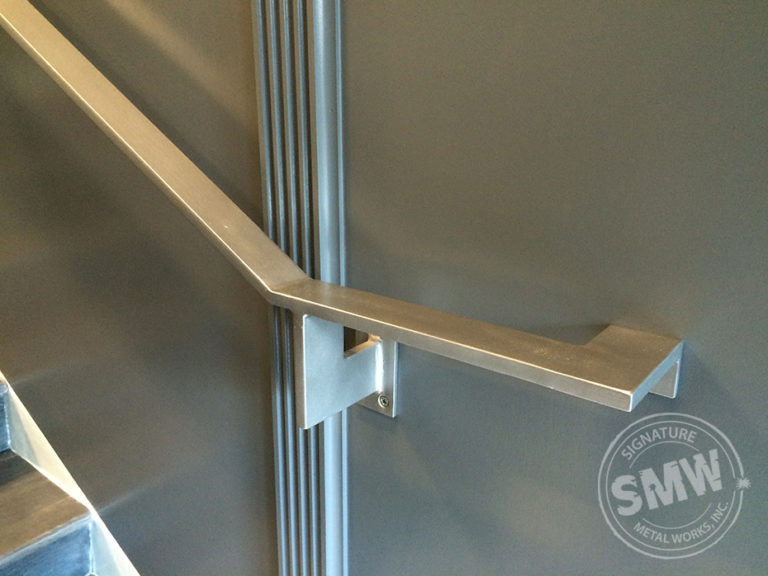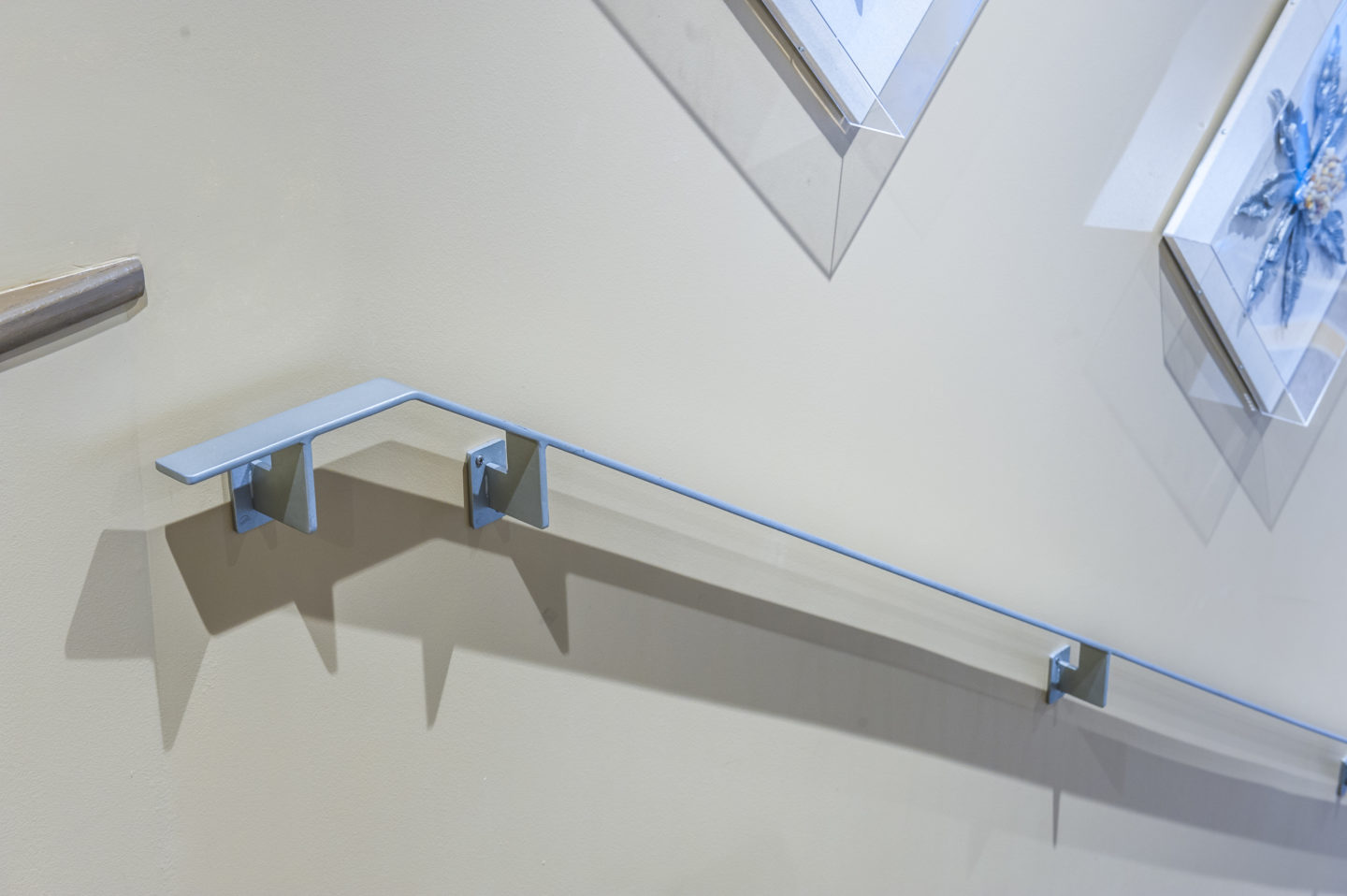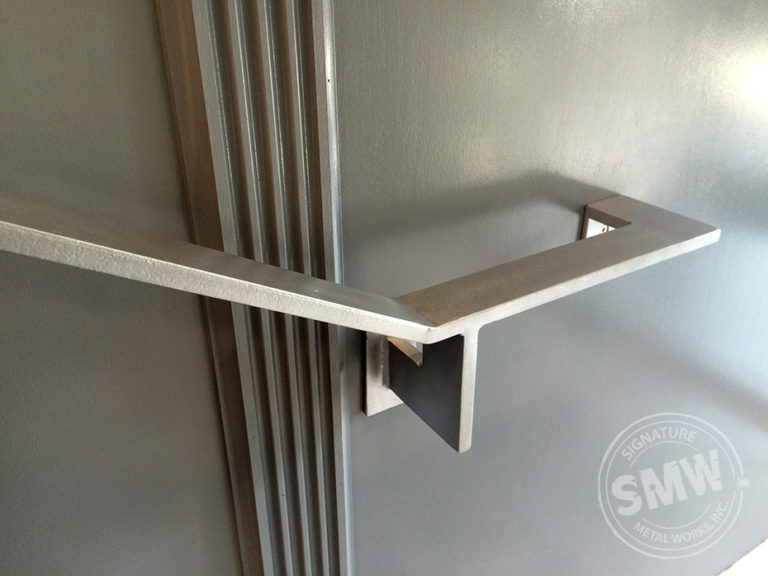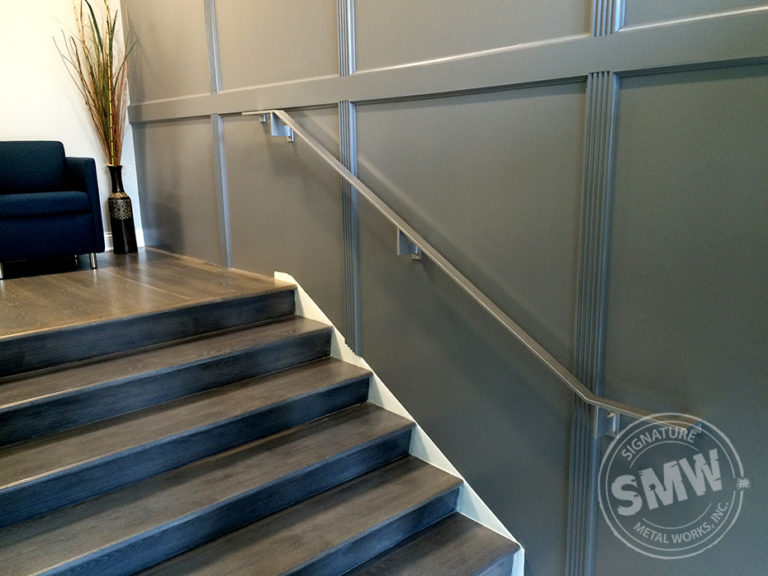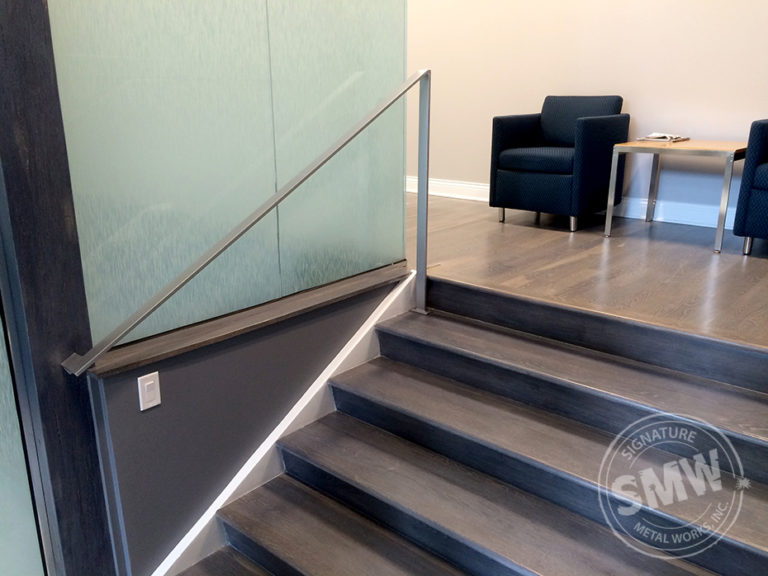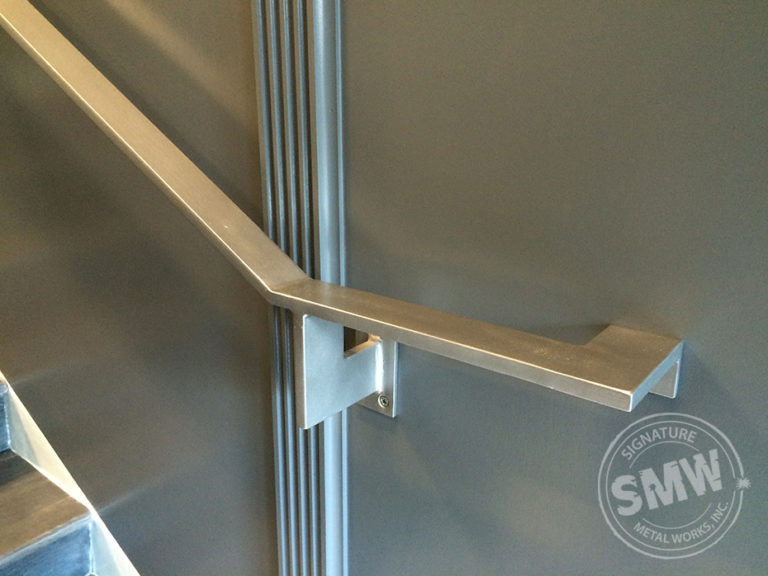 Flat bar wall mounted silver paint handrails for law office
H3
Modern architecture has a style that is simply unmistakable from any other. It is both sharp and smooth edges. It can easily combine natural materials with industrial. It features creative uses of glass and metal. For a modern building, the accents should match the overall intent of the architect to craft something that is both grounded in the now, but also has a taste of the future.
This modern law office in downtown Chicago reached out to us to redesign the handrails on the stairs leading up to their main office. This space is meant to welcome their clients, the first part of the building they see once they step inside. It was such an interesting space to consider our options for the design. This particular entryway had that interesting modern style mix of natural materials: the wood floors combined with the glass and metal of the walls. One of the first things we noticed was the edginess of it all. We decided to invoke that with the new railings that we designed.
The final product was made with the look of wrought iron stainless steel and had a brushed finish to create a satin look and feel. This allowed the natural color of the metal to shine through and add to the elements already existing in the building. The handrails have a flat design to allow them to almost float along the walls, providing a guest with support on their journey up the stairs. Wrought iron material is a great metal to work with because it is versatile. It can pick up accents in a room and end up looking silvery in the right light. It gives the space a sense of sturdiness and elegance. Another bonus to painting a piece a stainless steel color versus using actual stainless steel is that the color is well maintained. Other metals can take on a more aged look over time, which is great in some buildings, but not so much in a modern office. By using this material it will keep looking new for a long time to come.
Due to the different materials of the building, glass on the left and wall panels on the right, we went with two different designs on either side of the stairwell. The metal was crafted in the same way with the same finish giving both sides a sense of harmony, even if one is wall mounted and the other is held up by the floor. That sort of mismatched, but seamless design is another great feature of modern architecture. It is the angles and combination of materials that give a space character.
Are you interested in giving your space, either residential or commercial, a new identity by adding a custom hand rail? Are you ready to add some metalwork accents to liven up your building no matter its age? Give us a call, we would be happy to design something specific for you! We are your leading Chicagoland metal fabrication boutique shop!