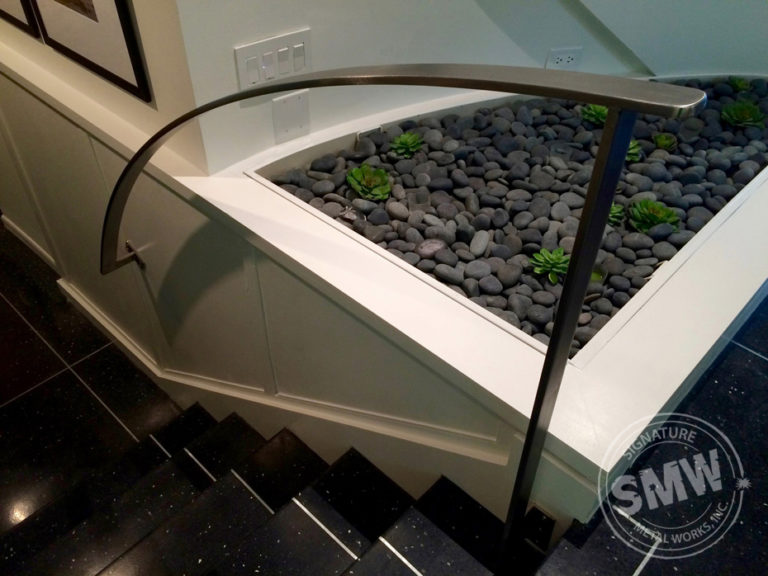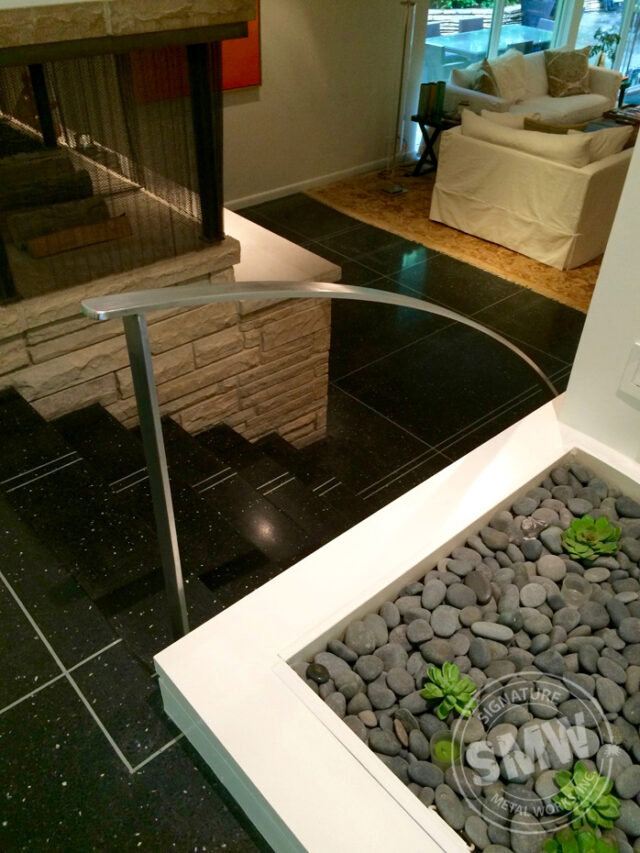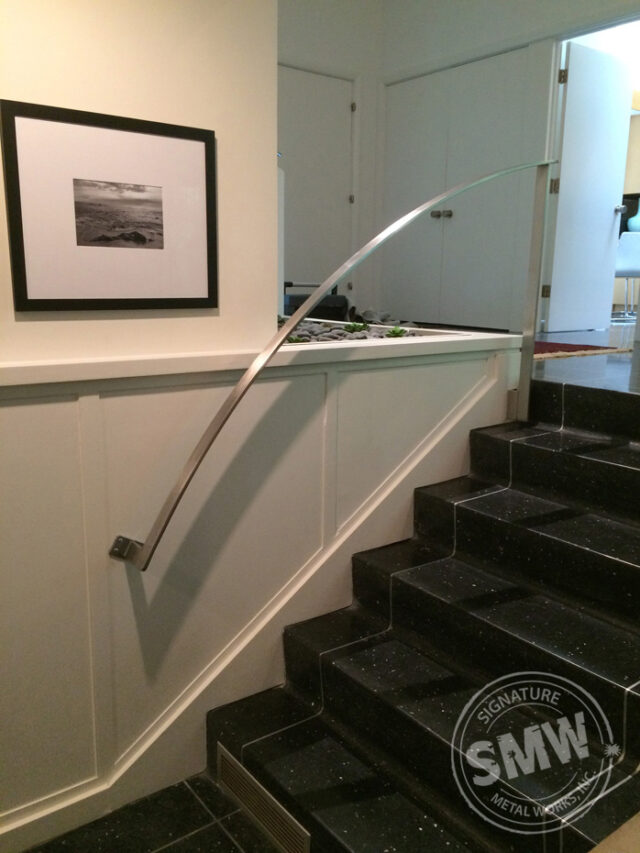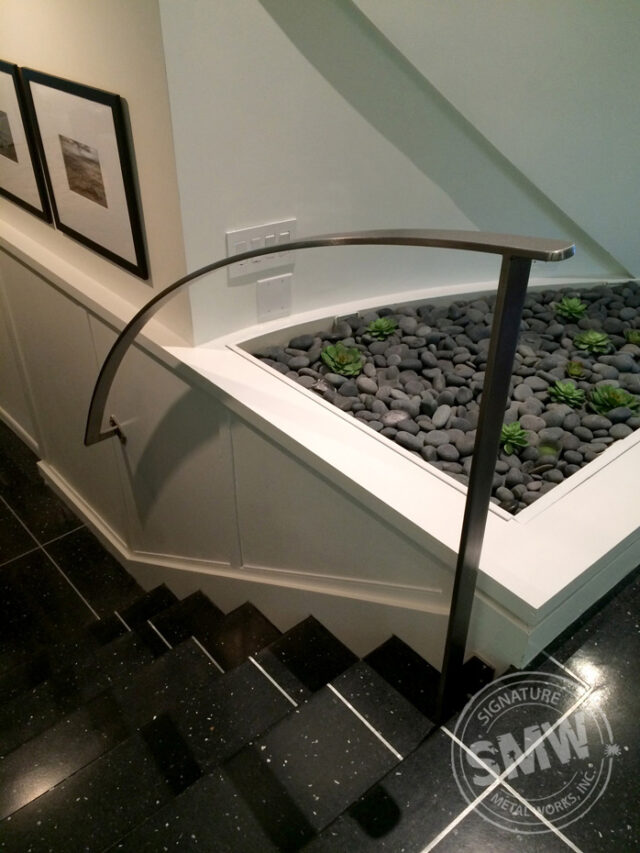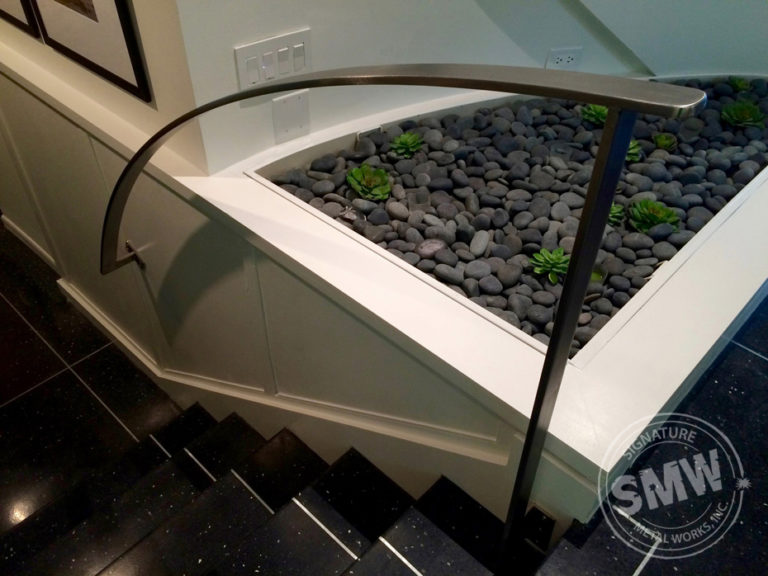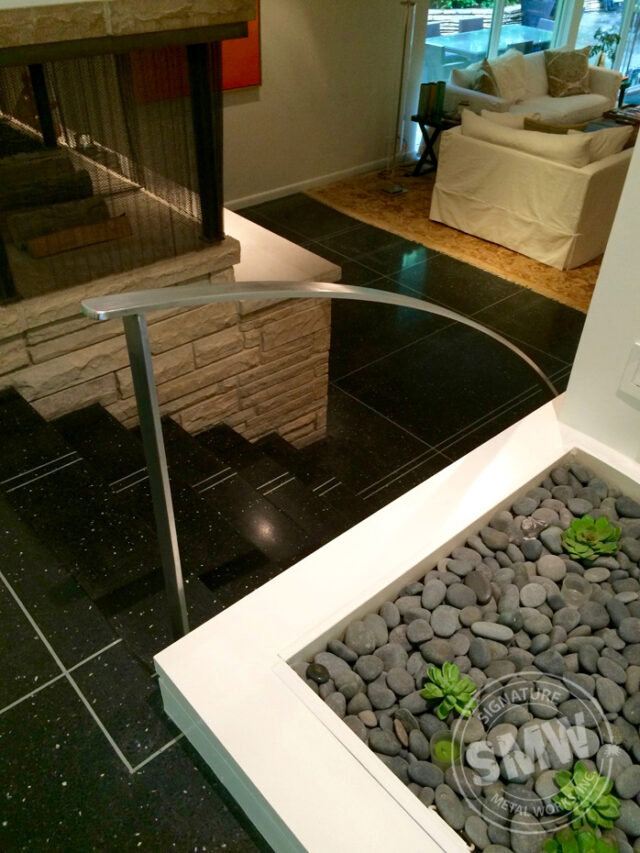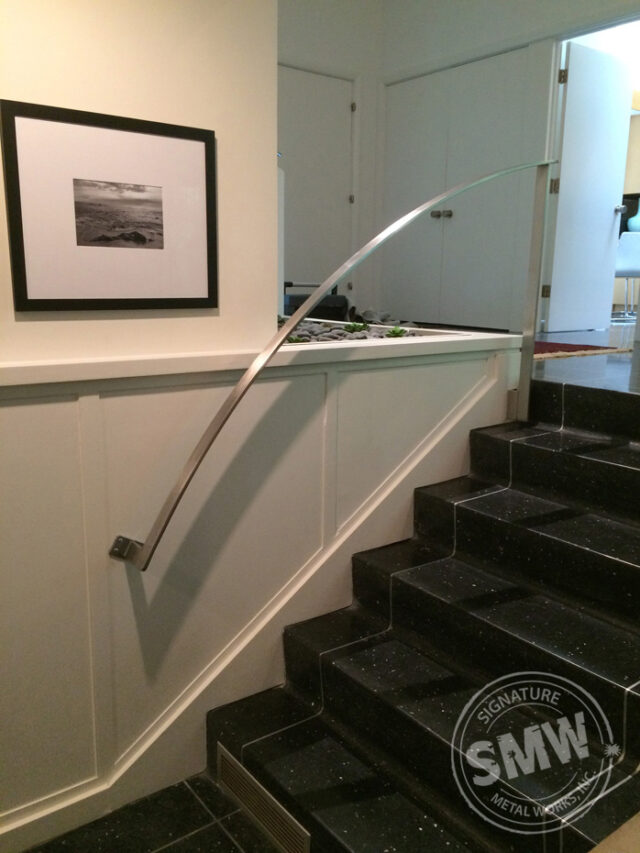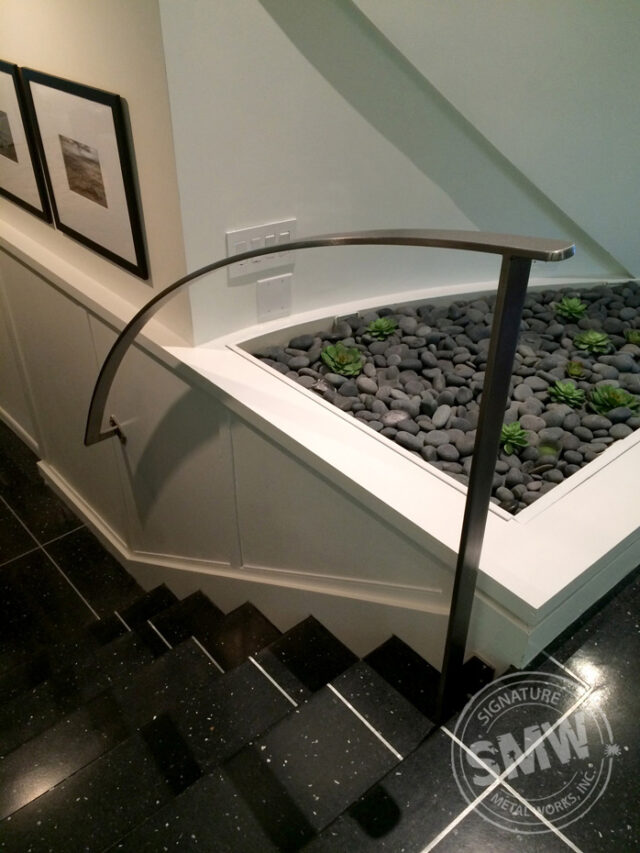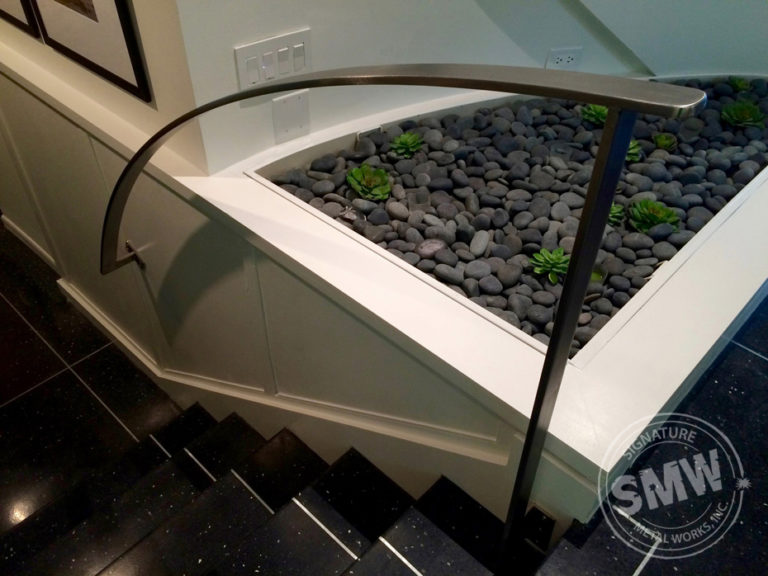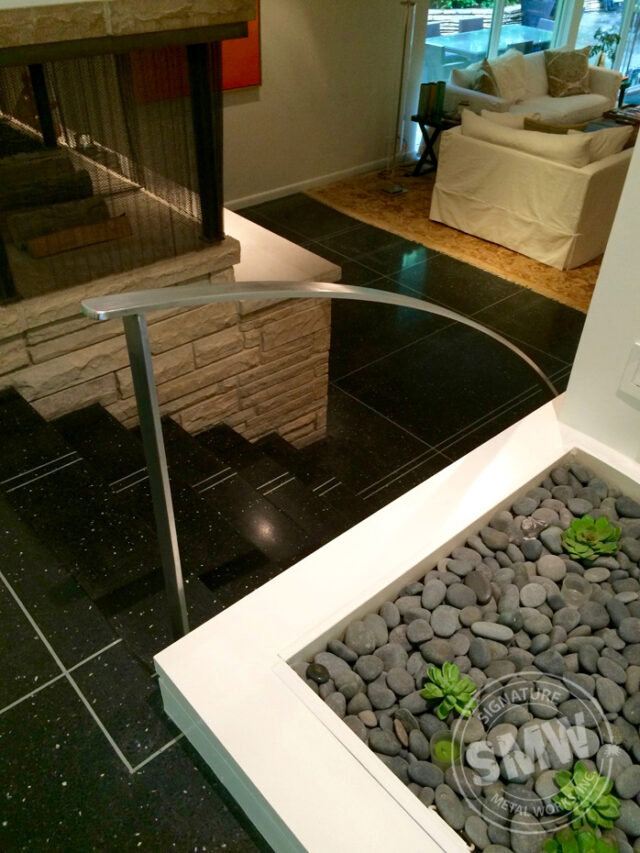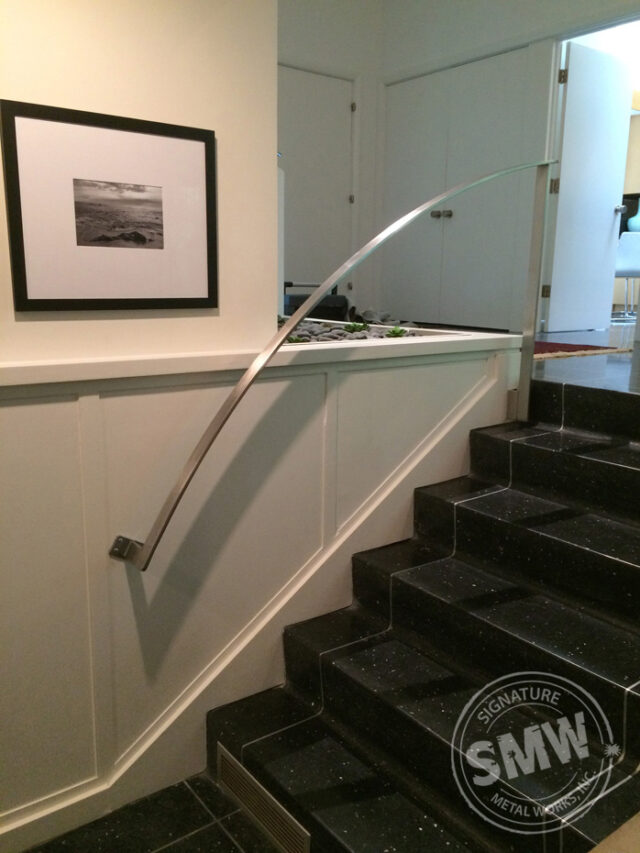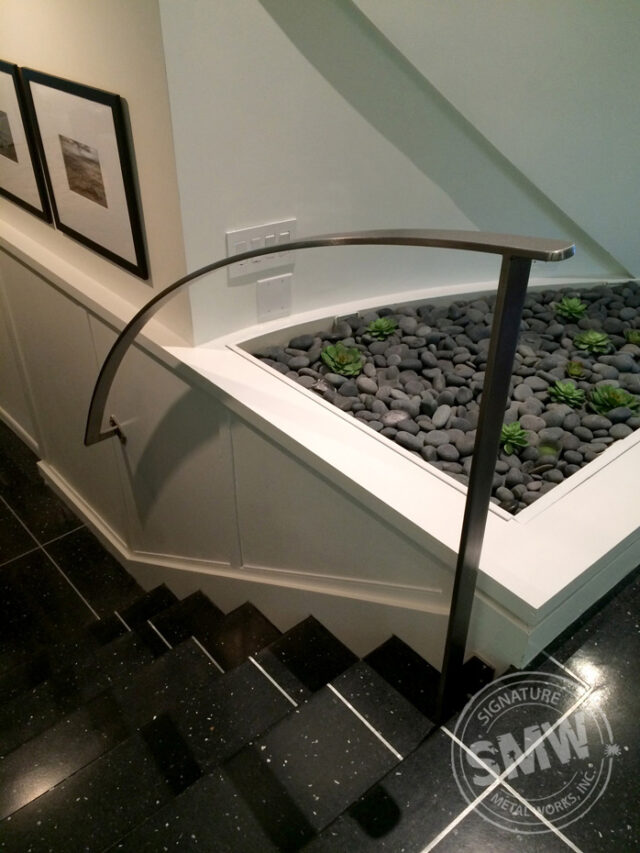 Custom Modern Handrail in Highland Park
H11
This handrail was a pleasure to create in order to bring a new sense of character to this home in Highland Park. The architecture of the home was Mid-century modern with natural elements throughout the home. When we first saw the space, we knew our work needed to be able to flow with the stonework and interior succulent garden right beside the stairs. It needed to be seamless in order to be compatible with the existing design.
Many designs for stairs in Mid-century modern buildings did not take into account railings on stairs. The thought at the time was that they broke up the flow of the design and were unnecessary. However, handrails are a very useful safety feature in homes, and they do not need to clash with the space!
An amazing feature of modern style architecture is that it's all about combining sleek lines with nature. There's geometry to these sorts of spaces and it requires a bit of artistry to make something that can fit within them smoothly. We can anticipate the needs of the original designer and work with the homeowner to make sure our addition is right for their home.
We believe that the people who live in these spaces know them better than we ever will. It's your home and you know your patterns of movement and where your eyes naturally travel. One of the first steps to a project like this is gathering ideas from you, the homeowner, about the dream and vision you have for your own space. This particular railing both contrasts and flows with the geometric design of the space around it. Made from steel with a brushed finish, it adds an industrial element and a more natural curve to compliment the space. This added element brightens the space, makes this stairwell safer and generally much more visible.
A stairwell is often at the heart of a home. We go up and down them more times than we can count every day. It is a trip from our bedrooms to our kitchens for breakfast. A trip back up when we come home from work. Then back down to join our families in living spaces where we enjoy a movie or share a meal. A custom handrail like the one we built for this home will be a part of that journey many times a day. We feel that artistry and craftsmanship is an important part of all of our projects. This stair railing will last the test of time and be a fixture in this family's life for as long as they live there, and it will still be there for the family that comes next.
Let us help you add a little something to our home. If you are interested in adding a railing to make your stairs a little safer or merely freshening up the space with some custom metal work, please contact us so we can get started on making your dream home a reality.