The main purpose for an electric gate is to prevent unauthorized access to your home or business, but that doesn't mean the installation has to be unattractive. Whether you're looking for a way to keep your children and pets from wandering away from your back yard or deter intruders, a motorized gate is a great addition to your driveway. No matter what the need, the expert designers at Signature Metal Works have over four decades of experience in creating custom wrought iron solutions and are guaranteed to design and install the perfect motorized gate for you.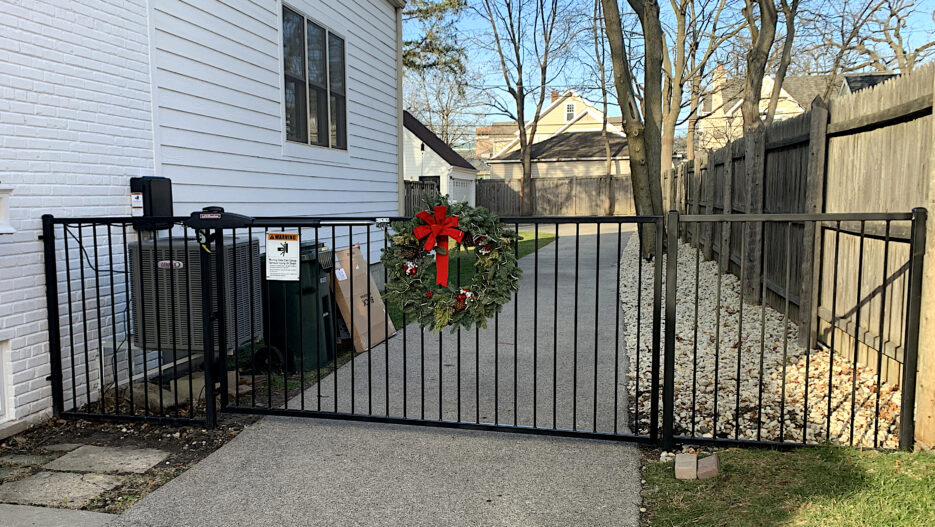 Types of Electric Gates
There are different styles of electric gates that could work for your project, depending on need and available space.
A cantilever gate slides into itself when opening and requires counterbalancing to allow for smooth operation. Depending on need, these gate types can cover openings of over 100 feet in width, can have single or double configuration, and are a common choice for most commercial electric gates. This gate type, however, is not a great choice for private home use as it requires a lot of space for the gate to retract into when opening that is often not available.
A vertical lift gate on the other hand is very useful when there is little space to either side of the gate, but plenty of room above. This gate type rises upwards to allow passage, but though this is indeed a space saving option, there is more stress on the construction that causes the components to wear out faster, and visually it is not a very attractive option for the typical home owner.
The third electric gate type is a swing gate, and this happens to be an ideal option for most homeowners, as well as more than a few businesses where space does not allow for the cantilever gate design. In this gate option a portion of the gate swings in or out to permit access and can be configured in either a single swing or double swing opening design.
Security provided by an Electric Gate
No matter which style of electric gate you decide to install, all of them offer several key security features that are invaluable to home and business owners. Manually opening and closing gates is tedious and often impractical, so a motorized gate solution is the ideal way to go.
The most obvious benefit of an electric gate is access control. By installing the gate you have the ability to limit access to your property and control who to let in when. Depending on the system you choose, you can even open and close the gate when away from your home to allow delivery people or caretakers in and out of your property, all while keeping solicitors and unwelcome guests out. Most systems also have tailgate preventing mechanisms in place which open and close the gate rapidly enough to only allow the approved vehicles access.
Depending on the gate style you choose, a driveway gate can add a layer of privacy to your home. You can choose the classic spindle option that doesn't limit visibility or choose a more solid design that blocks the view in and out of your property entirely. The choice is completely yours.
And finally, a gate adds a layer of deterrence to possible intruders, who statistically tend to be more opportunistic in nature. Burglars will generally aim for easy targets, so making it more difficult to gain entry to your property could prove enough of a deterrent to keep criminals at bay. A visibly maintained gate could be just the thing to make a burglar keep walking.
Because brute force is the most common way to compromise a driveway gate, it is important to choose one that is solidly constructed. A well crafted wrought iron locking mechanism as well as a set of well made and maintained hinges will resist most forces placed on the gate or at the very least would prove enough of a challenge for most intruders as to make the effort not worthwhile.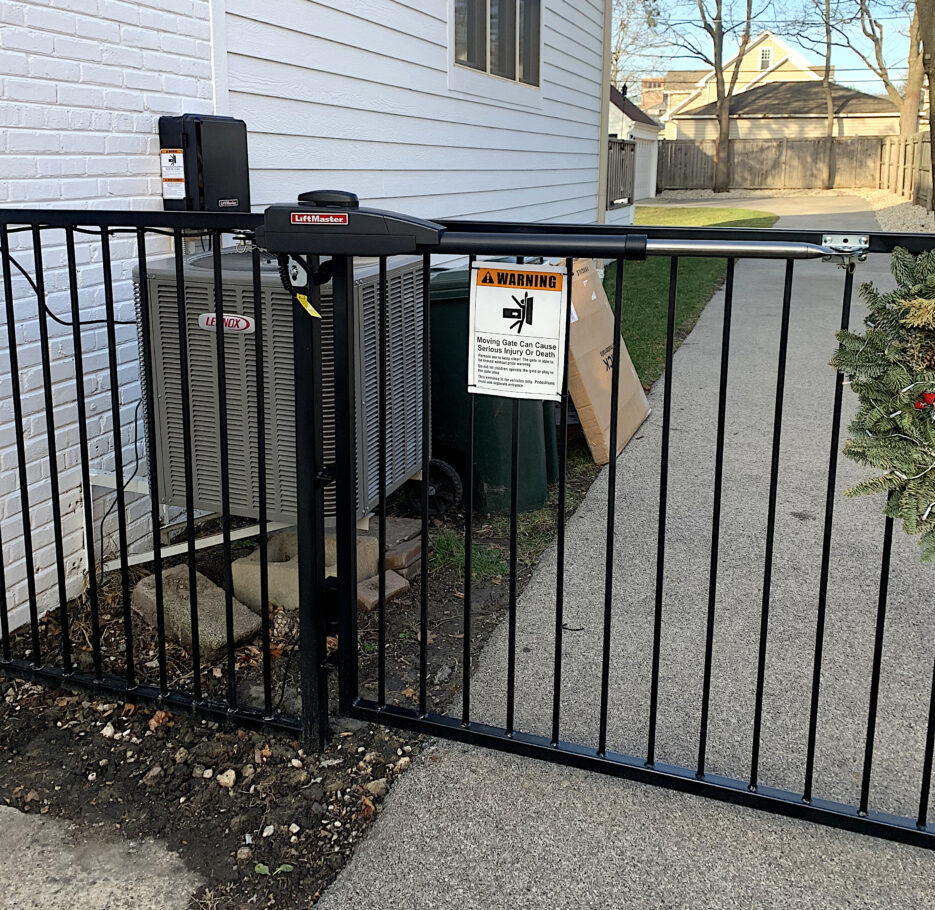 Single swing gate in Naperville
A homeowner in a bustling town of Naperville, IL wanted to add a motorized gate to his driveway that he could control with a remote. He wanted to provide his family's dog with a full run of the backyard, but make sure that the space remained closed off so that his pet wouldn't be able to run off and get into trouble. Most of all, the customer didn't want to have to get in and out of his car multiple times to manage a manual gate, so he reached out to the experts at SMW for help.
The experts at SMW took careful measurements of the space and crafted a custom gate around a Liftmaster motor that would be perfect for the space. The wrought iron pieces were crafted at the SMW state of the art facility in Arlington Heights, IL precisely according to the measurements taken on location. Once all the pieces were ready everything was sealed and coated with a layer of satin black paint to ensure a timeless finish that will look great for many years to come. After everything had cured and was ready, the entire installation was delivered to the customer's home and installed.
The SMW team made sure to hook up the electrical setup required for the installation and to configure the motor once the installation was complete. The customer now has remote controlled access of the gate, which he's able to open and close at the touch of a button and he can rest assured knowing his property and family pet are both safe and secure with the gate in place. Click here if you'd like to see the custom residential wrought iron motorized gate in motion.
If you're looking to add either a single or a double motorized swing gate to your home driveway or business parking area, please consider reaching out to the leaders in custom metalwork for over four decades. The team at SMW is sure to design and implement the ideal solution that would add security and piece of mind, all with the convenience that an electric gate can provide.